Can brisket be cooked in an air fryer?
Yes, and we're here to explain exactly how we did it right here. In this small enclosed hot air basket you will be surprised to see just how fast you can break down those connective tissues. Once that is done a knife will slide right thru so it's fork tender just like you want it. Just a few hours is all you need for perfection.
If you love air fryer recipes too, here are some resources to start with: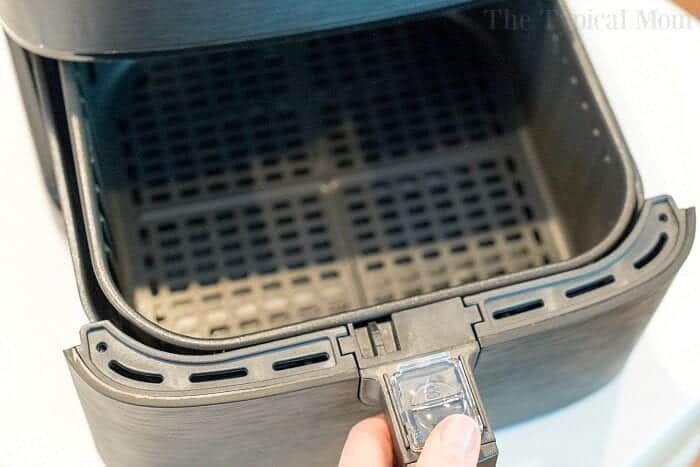 That depends. If you are cooking small pieces like steak bites they can be air fried to tender in under 10 minutes. A roast is closer to half an hour and a brisket recipe like this one is a few hours to break down the connective tissues and get to fork tender.
If this (on the expensive side) beef cut is a bit intimidating because you don't want to screw it up, I get you. I was there with you the first time I bought one at the store but over the years I have learned what works and what is ehhh. There is a wide range of sizes as far as this cut goes too, 3-4 pounds is just about right for this.
One thing is you only have a certain amount of space. My Cosori air fryer and Foodi are both around 6 quarts, if yours is smaller then you'd need to accommodate for that. You want it to sit flat without bunching up so the thickness is the same all the way across.
We are going to start with the seasonings so those can really bake on with the crust. This "searing" will lock in the juices before wrapping in aluminum foil and getting nice and tender. There really isn't a worry of it sticking in your air fryer basket but you could lightly spray before adding your protein inside. This is what you'll need to get started;
3-4 lb. beef brisket with a nice fat cap if possible
this is not for air fryer corned beef that has been marinated, working on that cut as we speak
Some stock or beef broth
Chili powder
1 tsp salt
Garlic powder
Onion powder
And brown sugar will add some sweetness
I have used our tri tip dry rub on this other times and that is amazing as well. If you have your own favorite combo for beef or would rather used a bottled combo then by all means use that.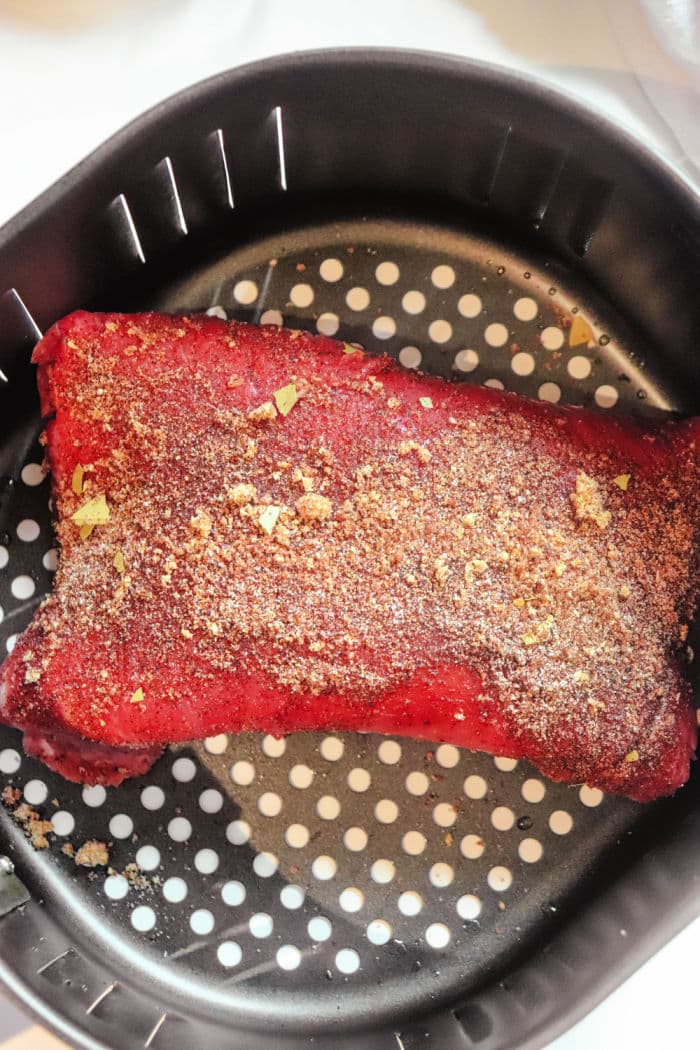 How To Cook Beef Brisket In Air Fryer?
Prep. Start by prepping your brisket. Load it into a tray and smoother it with oil first and then with the seasonings. This will then be your yummy crust on your brisket.
Cook. Load the brisket into the air fryer and make sure you push it down a little otherwise the top of it will be burnt. Then air fry for 30 minutes at 180c/360f.
Turn. When the air fryer beeps, turn your brisket over and cook for a final 15 minutes at the same temperature.
Rest. Allow the beef brisket to rest for about 10 minutes, before slicing and serving.
PIN IT to your MAIN DISH board for later!
The best way to cook brisket is "low and slow" and the Instant Pot shaves hours off the more common methods like oven baking, grilling, or the Crockpot process.
This uber-easy recipe has only 4 ingredients and 4 steps, making it perfect for a busy home cook. Set it and forget it!
BBQ sauced brisket is a hearty stand-alone main dish or can be made as meal prep for dozens of other recipes throughout the week.
For a picnic, party, or buffet, Instant Pot brisket is a delicious main course! Simply cook, slice, and allow guests to help themselves.
Here are a few more delicious air fryer recipes to add to the buffet table: Zucchini Skins, Parmesan Crusted Sweet Potato Fries, or some Loaded Tater Tot Skewers.
Or try this Microwave Baked Potato recipe for the perfect side dish.
BEEF BRISKET Brisket is one of the tougher cuts of beef that has a lot of connective tissue. Cooking it properly transforms it into a juicy roast that can feed the family or a crowd.
SEASONINGS BBQ sauce, water, and a BBQ rub, or seasoning mix can make a brisket that can easily be used in so many recipes. Don't be afraid to use any sauce or dry rub that happens to be on hand. The real secret to beef brisket success is in the cooking method, and this recipe has the secret!
FAQ
How long does it take to cook a brisket in the air fryer?
How Long Does It Take To Air Fry A Brisket? The air fryer brisket cook time is 45 minutes. This includes turning the brisket after 30 minutes and takes it from raw to fully cooked. We of course, like our beef brisket to rare medium, so if you want yours well done or rare you will need to adjust the cook times.
Can you slow cook brisket in an air fryer?
Slow Cooked Beef Brisket in Air Fryer
What is this? Mix together spices and brown sugar and rub on brisket. Place brisket in preheated air fryer, fat cap side up, and cook at 350° for 30 minutes.
How do I cook the perfect brisket?
Here are some tips for smoking a brisket just right:
Trim the fat to a thickness of ¼ inch.
Inject the meat 12 to 24 hours before cooking. …
Season the smoked brisket. …
Prepare the smoker. …
Slow-smoke at a temperature of 250˚F, allowing about one hour of cooking time per pound of meat.
How long does it take to cook a brisket 225?
Set your pellet grill to 225 degrees Fahrenheit and preheat, lid closed, for 15 minutes. Place brisket on the grill grate fat side down, and cook for approximately 6 hours or until the internal temperature reaches 160 degrees Fahrenheit. Remove brisket from the grill and wrap in a double layer of foil.