What to serve with this:
Green salad and dressing
Beer bread, biscuits or dinner rolls
This recipe is perfect for cooler Fall and Winter nights when you want a dish that fills you up. It's a rich comfort food that your whole family will love. Make sure and save the recipe for later and let us know in the comments what you think of this Noodle Romanoff recipe when you make it!
Want more vintage-style recipes? Follow me on Facebook, Pinterest, YouTube, or Instagram.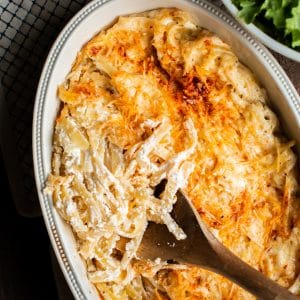 Ingredients:
▢
8
oz.
fettucine noodles
(half of a 1 lb. box)
▢
4
oz.
cream cheese
▢
2
Tbsp.
salted butter
▢
16
oz.
sour cream
▢
1/2
tsp.
salt
▢
1/4
tsp.
pepper
▢
1/2
tsp.
garlic powder
▢
1
cup
shredded parmesan cheese,
divided
▢
1/4
tsp.
paprika
This Noodles Romanoff recipe tastes just like Betty Crockers boxed version that was sold back in the 1960s. This recipe makes a wonderful side dish to any main course from stuffed bell peppers, to meatloaf, and everything in-between. Make this recipe the newest addition to your dinner rotation and we guarantee that your whole family will love this cheesy and flavorful side dish.
Boil noodles in salted water until done. Follow noodle package directions for the time. Drain noodles and return them to the pot. Add butter. Stir until melted in the noodles. Add all remaining ingredients and serve hot. If you have any leftovers, reheat them with a tablespoon or 2 of milk, as the cheese mixture soaks into the noodles. ​
FAQ
Where did Noodles Romanoff originate?
Noodles Romanoff was invented at a restaurant in LA named "Romanoffs," owned by Micheal Romanoff. When Romanoff's went out of business, the dish was then served at Stouffer's Top of the Rock Restaurant. After Stouffer's restaurant closed that restaurant, they transferred noodles Romanoff to their frozen food division.
How to keep egg noodles from sticking?
To prevent sticky noodles

While still in the colander or strainer, add a small trickle of olive oil to the noodles. Use tongs or a large fork to gently mix the olive oil into the noodles, fully coating them. The tiny bit of oil that coats the noodles will keep them slick and stick-free.