This Instant Pot Corned Beef and Cabbage is better than a pot of gold any day! Let me show you how to make corned beef in the instant pot! The most delicious corned beef brisket instant pot comes out perfectly tender and juicy, paired beautifully with potatoes, carrots, and cabbage. The veggies are also cooked in the Instant Pot in just 4 minutes in all the corned beef juices. We love this recipe to celebrate the holiday. This really is a one-pot meal, that is perfect for your St Patty's Day celebrations!
I did some research on this popular holiday dish. Corned Beef was once a luxury item in Ireland but it became a food that was inexpensive and readily available when they immigrated to America.
Corned beef typically is made from salt-curing beef. Usually, it is a brisket that's used. I know that the brisket is a tough cut of meat that's made tender by a long, salt-filled cooking process.
However, by using the Instant Pot, we are cutting down the cooking time immensely! Corned Beef typically is an all-day commitment to getting it tender and juicy and cooked to perfection, but thanks to my method and the Instant Pot, it's ready in a few hours instead!
The tradition of eating corned beef for St. Patrick's Day is a pretty American one. What has become a tradition of eating corned beef and cabbage to celebrate St. Patrick's Day likely grew out of the fact that those foods were less expensive for immigrants who came to America.
I am adapting this recipe and making corned beef in the instant pot rather than the oven.
Cabbage is the vegetable often paired with corned beef, again, because of its affordable price. I actually really like the cabbage in this dish!
If you bought frozen corned beef, add just a little bit of time. The rule of thumb is to cook frozen corned beef in the Instant Pot on manual high pressure for about 34 minutes a pound. For example, if you have 3 pound corned beef, cook it for 102 minutes. If it's 4 pounds – 136 minutes.
Instant Pot frozen corned beef and cabbage turns out great! Same timing when using a Ninja Foodi or Crockpot Express pot too. Comes out moist and fork tender every single time.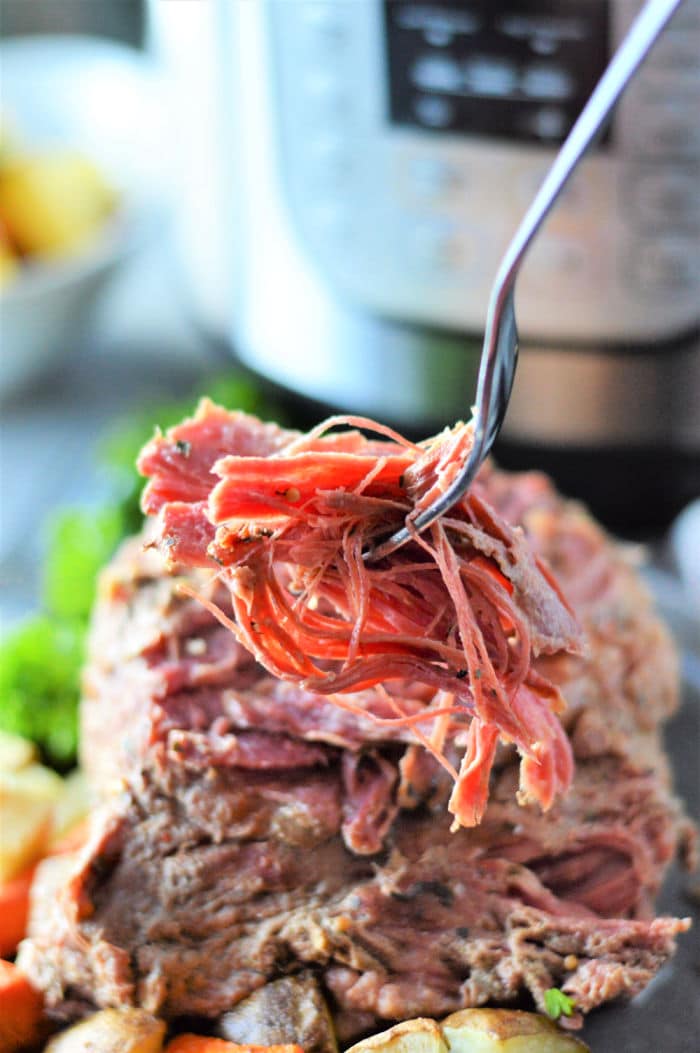 If you've had an UH OH moment and suddenly need instructions on how to cook Instant Pot frozen corned beef, we've got it. No shame in being forgetful, I do it all the time. After you try this and love it, give out other easy Instant Pot recipes a shot too. (affiliate links present)
You can use any brand of pressure cooker you have. Crockpot Express, Mealthy, Ninja Foodi, they all work just the same basically and all have the high pressure function.
You may have made our Instant Pot corned beef and cabbage in the past, but now it was still rock solid! Don't worry, you just need about 30 more minutes and it will still be delicious for dinner.
Let's start with a few basic tips:
For reference, this is the pressure cooker I have and use for all recipe creations.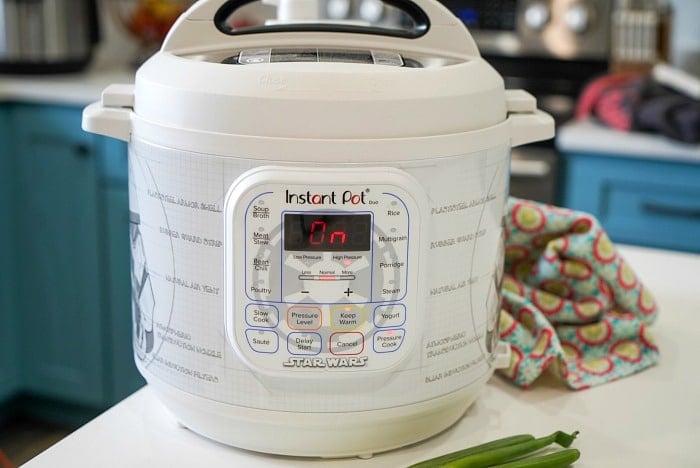 Yes! I did this last year when it was after St. Patrick's Day and they were crazy cheap. I couldn't pass them up as one was just $5 which was a third of what they were a few days before. I asked the butcher if you could freeze them and he said he does just that all the time.
SO I bought 5 of them and immediately threw them into my deep freeze. One at a time I took them out throughout the year and tried cooking corned beef and cabbage all different ways. Crock pot corned beef brisket used to be my go to so I made that yet again. Love using potatoes as trivets that way and enjoying them for dinner.
Then I made dutch oven corned beef and that was amazing too. All of those were done once it was defrosted. The last one I decided to do it without that step though. That is what brings us here, so I gave it a whirl and what do you know but it turned out great too.
Whether you have a flat cut or point cut (the first is my personal preference), this will work just as well.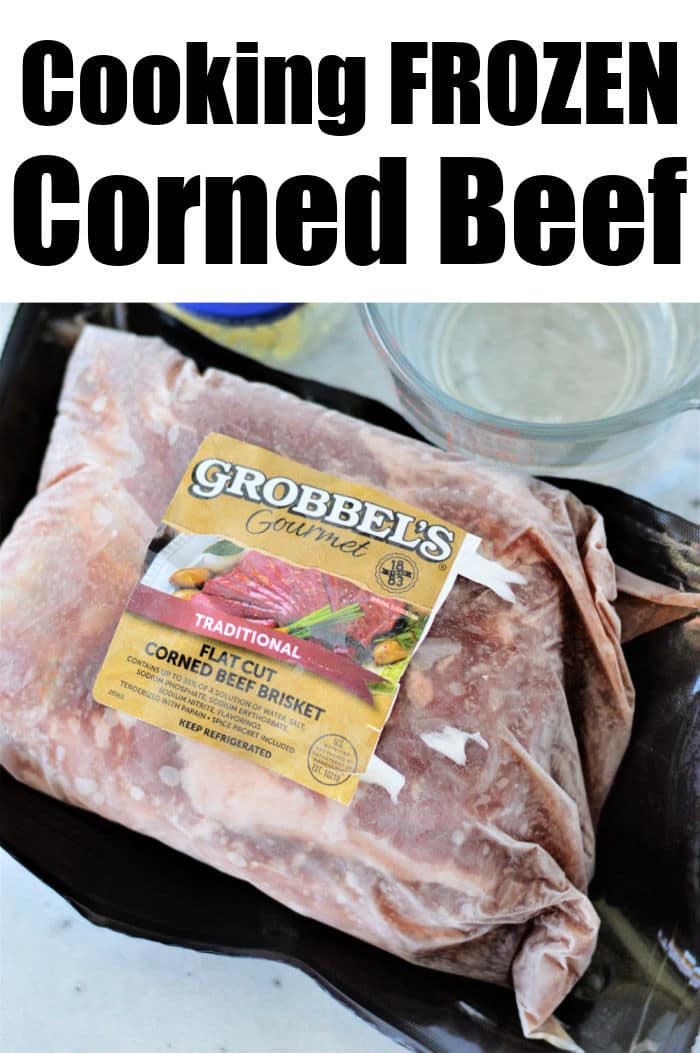 Let's talk about this type of beef shall we? It may be new to you, it was to me once and I never understood the differences by looking at the packages. I'll say there IS a big one between the two types offered. One is more expensive but SO worth it so just spend the extra few dollars. Flat cut is the way to go 100%.
One is square and the same thickness basically all the way across. There is more fat on this one too which is a plus. Point is just that, shaped as it sounds. Meaning one end is wider and the other gets thinner until it forms into a thin point. Trimmer, many times there isn't a lot of fat at all on this cut. You want fat to keep this as moist as possible.
Yes, that is what we are going to show you here. Using a pressure cooker is key to it's success. High pressure will defrost and break down the connective tissues so it becomes tender. Using beer, water or broth will essentially steam it until this brisket becomes moist and delicious.
One big difference between cooking frozen meat vs. fresh is the increase in timing. Because of this I do not add vegetables with it. Another biggie is the texture of the liquid inside of the bag. *Note, it kinda becomes an icky gelatin like feel once the meat is defrosted if you do choose to freeze and thaw out. Don't worry, just rinse it.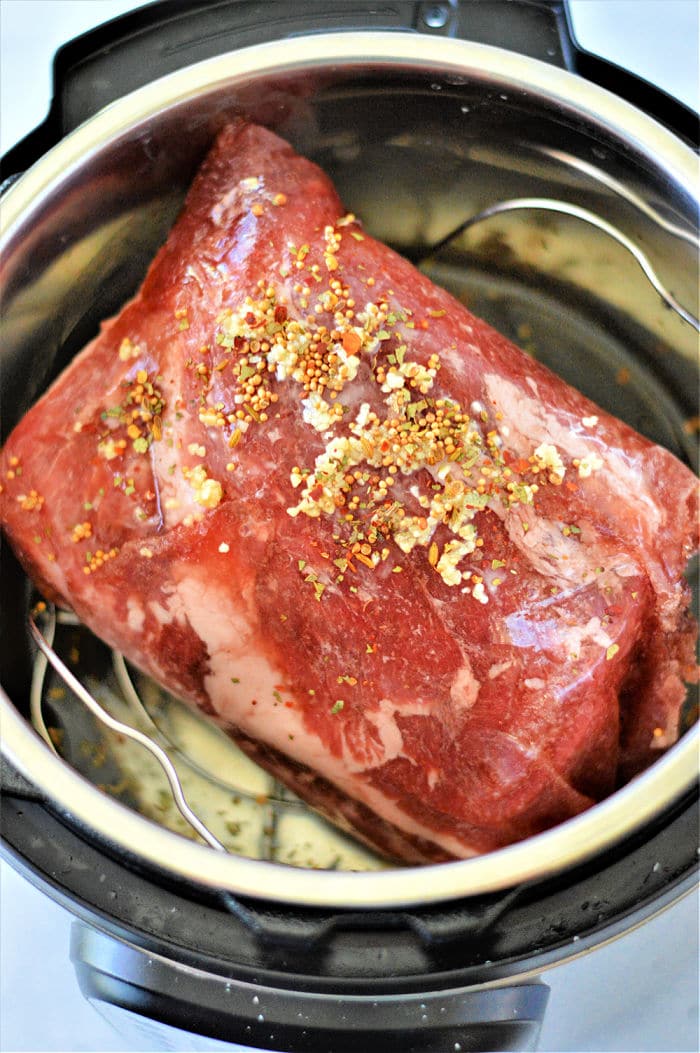 Since an extra half hour is added I knew the potatoes I once used as trivets would disintegrate. It would be better to make roasted potatoes in air fryer separately. I have made many simple cabbage recipes to pair with this once it's done but pressure cooker fried cabbage is by far our favorite.
A 3.5 pound corned beef brisket was used for this. Pressure cook timing would be appropriate for a 3-4 lb. size. Don't throw away the pickling spice packet that comes in the bag, you'll need that. This is what you're going to need, it isn't much;
Beef brisket that has not been defrosted + spice packet
Beer, broth or combine half with cup of water
Adding minced garlic to the top is optional
If you really really wanted to add red potatoes to this I would do it differently than if yours were fresh. Instead of sitting the meat on top, set them on the very top out of the liquid. They will cook slower that way and not fall apart as much.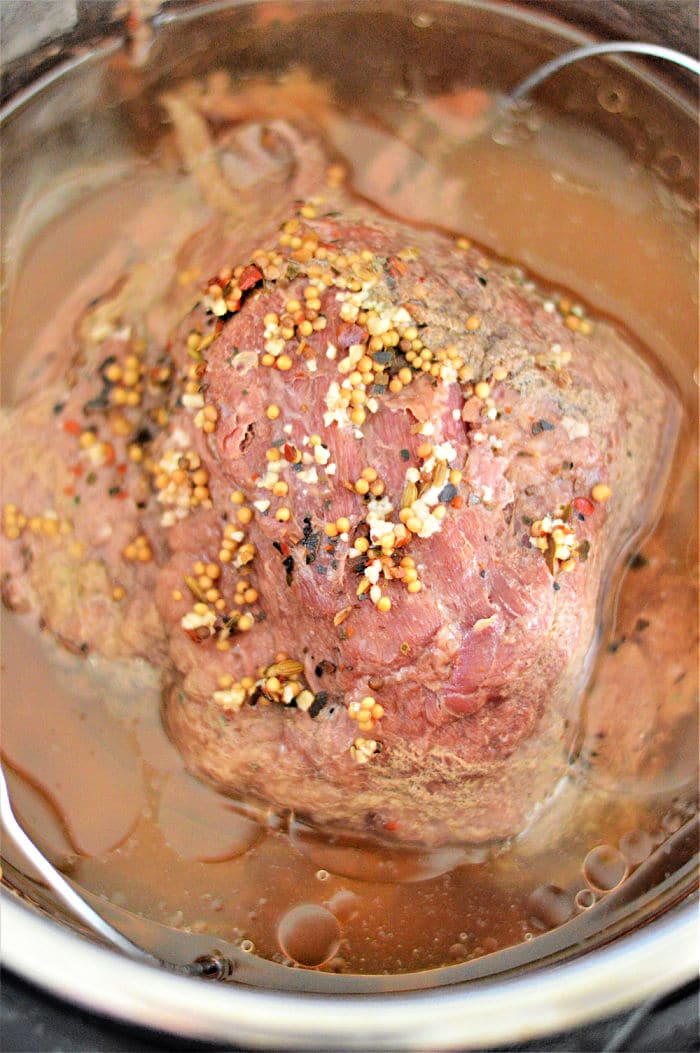 Full instructions and ingredient amounts listed below in the printable recipe card. There is nutritional information listed there too but I would refer to the back of your package for that since they are all slightly different.
The bigger the fat pad the better flavor your piece will have. That will certainly increase the fat content listed though so you'd need to look at the facts on your specific piece for accuracy.
You're going to start out by placing a trivet with handles inside your pressure cooker. Pour 4 cups of your chosen liquid inside the pot.
Set frozen corned beef on trivet. Top with minced garlic and spice packet on top.
Close the lid and seal pressure release valve. Set to high pressure for 2 hours cook time.
When done allow release the pressure naturally. This will take about 30 minutes, do NOT do a quick release.
Open the lid carefully, remove corned beef and slice on a cutting board.
You can make air fryer cabbage in about 15 minutes or follow our Ninja Foodi cabbage recipes to serve on the side. Slow cooker mashed potatoes is another favorite for sure.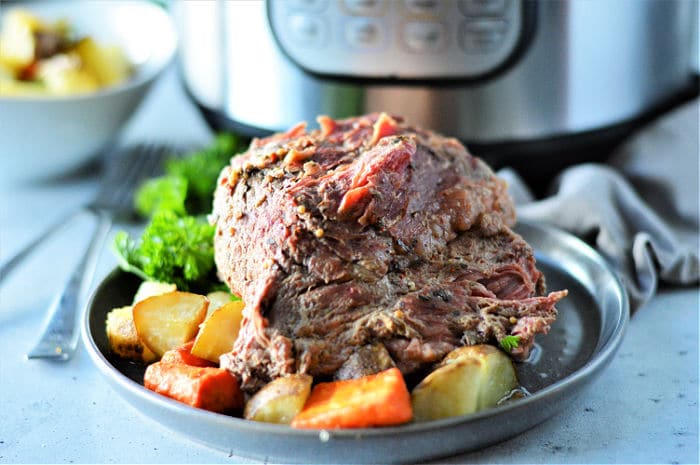 If you want to use these instructions to make frozen Ninja foodi corned beef and cabbage that works too. Like I said, it doesn't matter what brand name yours has on the front of it. I have done it in all 3 different types I have in my pantry. We may have one slice left over at times. I never get rid of it because it saves so well for the next day.
Once it is cooled slide what is left into a baggie. Only slice what you are going to eat because storing a larger piece will keep it very moist. Slide it into a baggie and keep in the fridge until the next day. Either warm it up with some gravy or you can make something wonderful with it.
Of course corned beef hash is an old fashioned favorite and reminds me of being at my Grandmother's table during the holidays.
Our family favorite is making leftover corned beef soup. It's kinda' like a chowder with vegetables and diced potatoes inside. I will tell you it is so amazing that I have cooked this meat just so that I could dice it up and make this soup as a main meal many times! Do you make anything great with it the next day we should try too?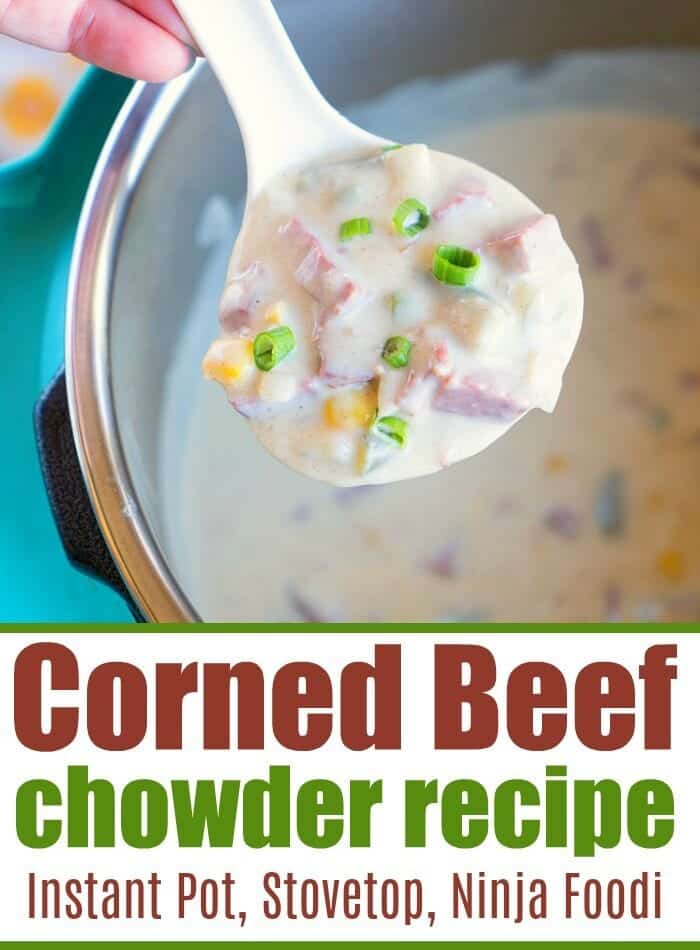 Want to see a few of my favorite things that I am totally obsessed with or visit my Etsy shop?? Take a peek and see how many you might already have…twinsies!
Looking for more easy family recipes and tips? LIKE The Typical Mom Facebook page?
Then sign up for my free newsletter, and follow me on Pinterest!
***** If you LOVED this recipe give it 5 Stars below and let everyone know what you thought about it.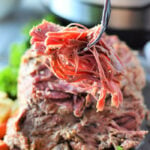 3.5
lbs
corned beef
+ spice packet included in bag
4
c
beer
broth, or water
1
tsp
minced garlic
Place trivet inside pressure cooker and pour 4 cups of liquid inside the pot.
Set frozen corned beef on trivet. Top with minced garlic and spice packet on top.
Close the lid and seal pressure release valve. Set to high pressure for 2 hours cook time.
When done allow the steam to release naturally, this will take about 30 minutes.
Open lid, lift out meat and slice on a cutting board. Serve with air fryer cabbage, steamed or boiled large cabbage leaves.
Why We Love Cooking in the Instant Pot
For years I've made corned beef in a crockpot and while tender and delicious, it takes all day long. This Instant Pot recipe has easy prep and quicker cooking!
Everything from searing to cooking can be done in just one pot (less mess, less dishes!).
Tougher cuts (like a corned beef brisket) become melt in your mouth tender.
Meat cooks in a fraction of the time.
An instant pot is easy to use.
What You'll Need:
This recipe is really rather simple. I think you'll like it! I make my instant pot corned beef with beef broth, all of the ingredients are on the list below!
What you'll need for this corned beef instant pot recipe:
1 white onion, quarter
3-4 garlic cloves
2 cups beef broth
2.5-3 pound corned beef brisket, including spice packet
1/4 cup mustard aioli or spicy mustard
1 pound red potatoes – quartered
2 cups colorful carrots
1 head green cabbage, cut into large wedges
Salt & Pepper
It's important to use a good quality mustard in this recipe! A lot of the flavor in this dish is going to come from the aoili you use! Here are two I like:
How long should a corned beef cook in a pressure cooker? That depends on the size of the brisket, and if it is thawed or frozen!
If thawed, the corned beef brisket will cook up in about 85 minutes, assuming it's between 2-3 pounds.
Can you cook instant pot corned beef frozen? Yes!
Simply increase the cooking time up by about 20 minutes. This will allow the corned beef brisket to defrost and cook completely.
If you have any leftovers, you should use the instant pot corned beef for sandwiches! The beef makes a delicious hot melt sandwich!
Layer the beef, with a little cheese, mustard, and lettuce and enjoy!
How do you celebrate St Patricks Day? Do you have any fun traditions that you do from year to year?
I remember growing up, my family was big into leprechauns. We would spend the week up until St Patty's Day building our trap because we were sure we could catch one.
My parents were really good about putting out green footprints, and turning random items in house green. It was really fun.
We also always made Instant Pot Corned Beef and Cabbage, shamrock cookies, and other festive treats.
In college, I made a random St Patricks Day tradition of running a race in St George called Shamrock Your Socks Off. It was a 10K down snow canyon and I ran in it for 4 years straight.
It was so beautiful! The course and the backdrop were so pretty; I looked forward to it every year!
Tell me, what do you do for St Patrick's Day?
If you give this recipe a try, let me know! Leave a comment, rate it, or snap a photo and tag it with @TheAlexDaynes on Instagram! I love to see what you've been cooking. It always makes my day!
Flavorful and tender Instant Pot Corned Beef Brisket
1 white onion, quarter
3-4 garlic cloves
2 cups beef broth
2.5-3 pound corned beef brisket, including spice packet
1/4 cup mustard aioli or spicy mustard
1 pound red potatoes – quartered
2 cups colorful carrots
1 head green cabbage, cut into large wedges
Salt & Pepper
Place onion slices and garlic cloves into a 6 or 8 quart Instant Pot. Then, place the trivet in the bottom of the instant pot.
Place brisket on the trivet and season with the spice packet. Pour in the beef broth.
Lock the lid, set the valve to "seal" and select manual/pressure cook setting on high pressure. Set cook time for 85 minutes.
Once cook time has elapsed, let the pressure release naturally for 15 minutes. Then do a quick release of any remaining pressure by moving the value from "seal" to "vent".
Remove brisket from the Instant Pot and place on a baking sheet lined with foil.
Preheat oven to boil. Brush the mustard over the top of the brisket and broil for 3-4 minutes until crisp on top.
Meanwhile, remove onions and garlic from the Instant Pot using a slotted spoon. Drain off all but 1 cup cooking liquid in the Instant Pot. Stir in the potatoes and carrots and top with cabbage. Season with salt and pepper, to taste.
Lock the lid, set the valve to "seal" and cook the veggies on high pressure for 4 minutes. Once cook time has elapsed, quick release the pressure.
Thinly slice corned beef against the grain and serve with potatoes, carrots, and cabbage. Enjoy!
FAQ
Can you cook a frozen corned beef?
However, as long as your corned beef was well-packaged and hasn't developed freezer burn, it should still be safe to eat! I would recommend thawing it completely in the refrigerator and then cooking it in the slow cooker for 8 to 10 hours on LOW.
Can you cook frozen beef in a pressure cooker?
To be really quick about it – you should know that most pressure cookers are perfectly capable at taking frozen roasts, steaks, birds, or filets and turning them into moist and tender pieces of meat to be enjoyed with family over the dinner table.
How long does it take to cook frozen meat in a pressure cooker?
Well, as a reminder, frozen meats will take 50% longer to cook than thawed. As an example, a thawed roast should be cooked under pressure for 15-20 minutes per lb., while a frozen roast should be cooked under pressure for 22-30 minutes per lb.