Just like what you get at your favorite hibachi place, but even better! These flavorful hibachi noodles hit all the right notes with their buttery goodness, rich umami, slight sweetness, and of course, the garlic and ginger.
This dish is simple yet elegant, and the sauce, featuring Kikkoman® Soy Sauce, makes this dish a true weeknight winner, especially when you want a low mess, 20-minute meal.
Traditionally hibachi noodles are made with noodles, a sweet sauce made from soy sauce, teriyaki, sugar, and maybe some lemon juice. Then the whole dish is topped off with sesame oil, sesame seeds, and green onions. But I wanted to take this amazing flavor profile and make it a whole meal. So, I added my favorite vegetables.
These umami-packed noodles are full of Asian flavor that you will love and make a great side dish or complete meal that you can even add protein to if you want.
Ingredients & Making Your Hibachi Cooking Oil
The base cooking oil used by hibachi chefs is a combination of 4 basic ingredients. Hibachi cooking oil is made with sesame seed oil, olive oil, rice cooking wine, and soy sauce.
Combine the oils, rice cooking wine, and soy sauce in a sealable container such as a jar or squeeze bottle for ease of storage and use. Shake to combine before using.
If you dont have sesame oil on hand, you can read all about the best sesame seed oil substitutes in my guide here!
Cook your chosen pasta noodles until al denté in texture. Drain and rinse, then drizzle with sesame seed oil. Season with a few turns of your fresh black pepper grinder (or a pinch of ground pepper) and toss the noodles to coat evenly. Set aside.
In a wok or large frying pan, bring the wok to medium heat. Add ¼ cup of the hibachi cooking oil, butter, garlic, and ginger.
Sauté the garlic and ginger while the butter melts and until the garlic is tender about 2-3 minutes. Add the pasta, teriyaki, and mirin. Fry the noodles until they are heated through, turning occasionally, for about 2 minutes.
Use additional hibachi cooking oil as needed, then sprinkle with sesame seeds when serving.
After working through preparing many servings of my hibachi noodles, I am finally sharing my best recipe! This is as close as I have gotten to authentic hibachi noodles, authentic in this case being as close to my favorite Japanese steakhouses just-fried noodles.
These noodles will last in the fridge for about 2 to 3 days when stored in an airtight container.
To reheat, heat a little butter in the pan and add the noodles. Add 2 tablespoons of water and mix it well.
Japanese Hibachi Noodles are rich and buttery Japanese Steak house-style stir-fried noodles that are served on the side with chicken, beef, or veggies.
But as we are making it at home, a flat pan, large skillet, or a wok works just fine.
Butter & Oil – This recipe uses a combination of butter and sesame oil. Butter gives a creamy buttery taste and sesame oil gives a very unique Asian flavor to these noodles.
How To Make Hibachi Noodles (1 Min Video)
It seems deceptively easy but who knows. I know there's copious amounts of butter and then some garlic. Then in went the linguine (I'm not sure what noodles they use at your Hibachi place but at Kobe's Japanese Steakhouse it looks suspiciously like linguine…small in width but not as wide as rice noodles and flat) and some thin, watery black sauce that looks suspiciously like soy sauce but isn't as salty. Or maybe the saltiness is balanced out by the sugar that follows.
I'm beginning to suspect that black sauce is a mixture of some kind; soy sauce and maybe something with teriyaki sauce elements. When someone asked at my table, they said it was Coca-Cola. Uh-huh, Back to the cooking: sugar, salt and pepper and more mixing and finally it's heaped onto everyone's plate and topped with sesame seeds. And if you want to give it some kick, toss in a few red pepper flakes.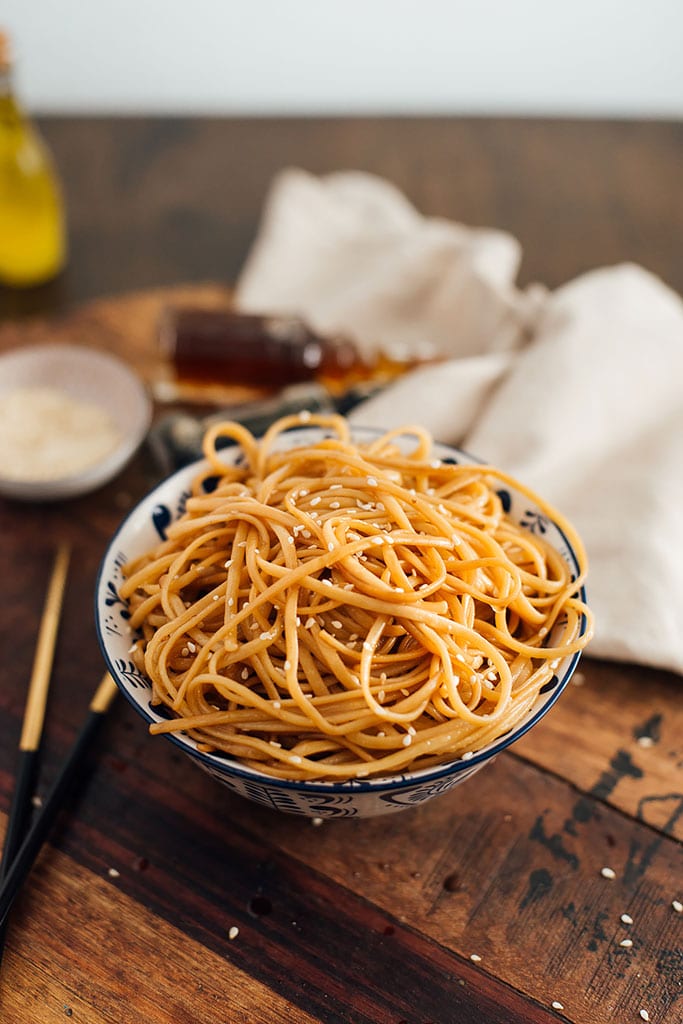 Well, that's my take anyway. If you know any better or if you are/were a Hibachi chef in training and don't mind divulging the secrets, I'm all ears. Give it to me! For now, this is the best I can do. Since I don't have those fancy grill thingies they have at hibachi places, I cooked mine in a wok big enough to handle the mixing of the noodles. You won't get the slightly charred and mixed flavor from all food being cooked in one place (rice, meat, noodles) but it works.
FAQ
What kind of noodles are used in hibachi?
Hibachi Noodles are typically made with Yakisoba noodles. You could also use Ramen or Udon Noodles if you had those on hand!
How do you make hibachi on Blackstone griddle?
Hibachi Noodles are typically made with Yakisoba noodles. You could also use Ramen or Udon Noodles if you had those on hand!
How do you cook noodles on a flat top grill?
Hibachi Noodles are typically made with Yakisoba noodles. You could also use Ramen or Udon Noodles if you had those on hand!