This London broil crock pot recipe takes very little effort, but you will end up with a very tender, flavorful meat along with a delectable gravy thats great served over rice or noodles or sopped up with some homemade bread!
As you can see in the pictures, the meat is fork-tender and falls apart easily. No real need to cut with a knife.
In fact, if you wanted to you could pull it all apart (like pulled pork, except its beef …) and use it in soup or served mixed in with mac and cheese or mashed potatoes
How to make slow cooker London broil recipe?
Pat and season: To begin, pat the London broil dry with a paper towel and season with kosher salt and black pepper all over.
Sear beef: Next, heat a Dutch oven or large cast iron pan on the stovetop over medium-high heat. Then, add the olive oil and sear the beef on both sides for about one to two minutes each. It should be golden brown.
Add the rest of the ingredients: After, remove London broil from the pan and place it into a crockpot or slow cooker, adding the rest of the ingredients except for the potatoes and carrots. Put the butter on top of the meat.
Cook the London broil: Then, replace the lid and cook London broil for five to six hours on high or eight to ten hours on low.
Add the veggies: When you have two to three hours left to cook, add the potatoes and carrots. Cover and continue cooking until everything is tender.
Thicken the gravy: If the juice is not as thick as you would like, make the cornstarch slurry. Just mix the water and cornstarch and add it to the gravy when you have one hour left of cooking time.
Cut and serve: After it is done, place the London broil on a serving platter and let it rest for 10 minutes before cutting. Arrange the veggies around the meat and garnish with freshly chopped parsley and gravy to serve.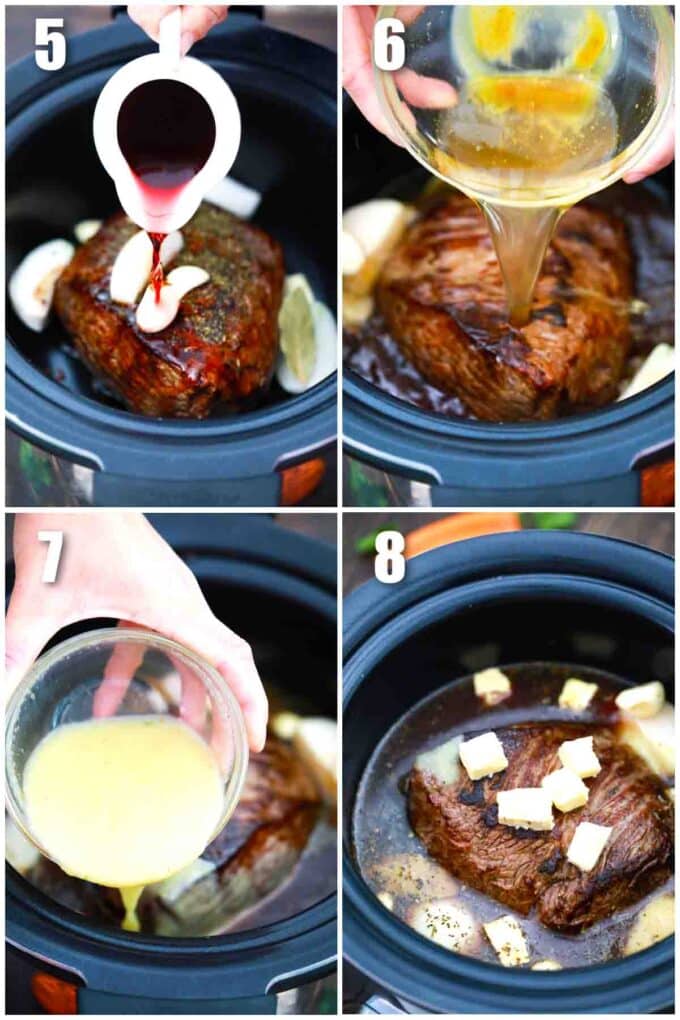 How to make instant pot London broil recipe?
Sear the beef: First, pat the meat dry and season before searing it on all sides in the instant pot on the saute setting.
Fill the pot: Then, put all of the ingredients into the pot with the butter on top.
Cook the London broil: After, seal the lid and set to pressure cook for 10 minutes before letting it naturally release for 10 minutes. Remove meat and veggies to a cutting board or serving platter and cover with foil to let it rest for 10 minutes.
Make the slurry: Meanwhile, mix the water and cornstarch and then add to the gravy. Continue to saute for two minutes or until it is thickened to your preference.
Carve and serve: After the meat is done resting, carve into one-inch slices and top with gravy and chopped parsley.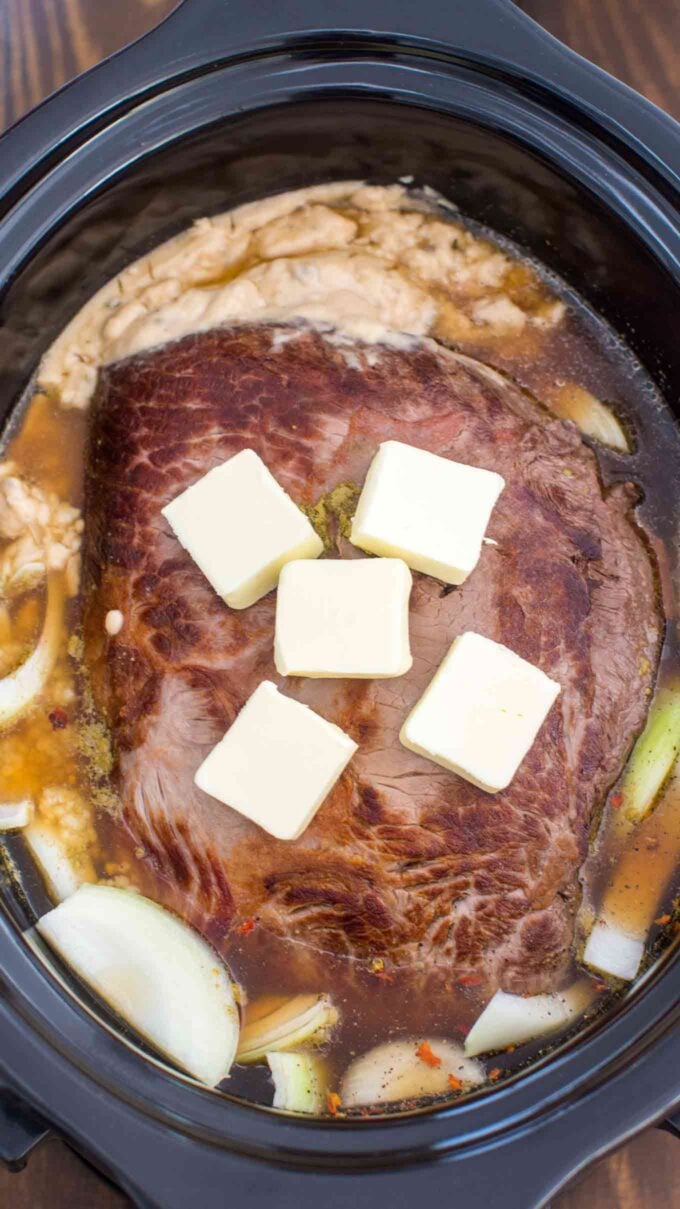 How long should you marinate your London broil?
This recipe calls for a slow cooking method, so you do not have to marinate it at all. Rather, it marinates as it is slow cooked in the crock pot.
However, if you were to cook it in the oven or instant pot, go ahead and make the marinade and let it soak for at least a few hours or overnight. Since the cooking time is faster, marinating will help tenderize it.
FAQ
Should London broil be cooked fast or slow?
Unlike broiling, cooking the meat in an oven is best done slowly over a few hours and at a temperature around 350 degrees Fahrenheit. You don't want the oven too hot or you'll end up with dry, chewy meat.
How do you cook London broil so it's not tough?
Instructions To Make Tender London Broil
Lay your London Broil on a rack over a sheet pan and generously season with salt and pepper.
Give it an hour to tenderize on the counter. …
After an hour, grill it at medium-high heat for about 12-15 minutes or until a meat thermometer registers 125° for medium rare.
Can you overcook beef in a slow cooker?
Can you overcook something in a slow cooker? Slow cookers are specially designed to cook food for long periods of time, but yes, you can still overcook in a slow cooker if something is left on the wrong setting for longer than it's supposed to be.
Can I use London broil for stew?
If you see a cut labeled "London broil" at the supermarket, it's a good candidate for this marinating and grilling cooking method. You could also use it for stews or smaller braises.