Mongolian Beef and Broccoli – Best easy takeout inspired beef and broccoli recipe made with thin strips of marinated Mongolian beef and steamed broccoli. Serve over steamed rice with green onions and sesame seeds.
My super easy and delicious Beef and Broccoli Recipe is the perfect family friendly and kid friendly meal! From start to finish this dish takes less than 30 minutes to make! This recipe will serve 4 people.
If you are cooking for a larger crowd, you can easily double this recipe. We like to pair this dish with steamed rice, fried rice or chow mein! I will link a few of my favorite Asian side dishes that pair perfectly with beef and broccoli for you below.
Difference between Beef and Broccoli and Mongolian Beef
Mongolian beef is made with spicier sauce. It also does not have broccoli in it, but a lot of green onions are added. You can also add green onions to beef and broccoli, if you'd like, even though the recipe doesn't call for it.
A Mongolian Beef And Broccoli better than take-out? YES! It IS possible.
With an added ingredient to make this thick and glossy sauce taste even BETTER than take-out, PLUS extra sauce in the recipe, the beef is tender/soft using less than half the oil than other recipes. Most Mongolian Beef recipes do not have the addition of vegetables and call for deep frying the beef in 1 cup or more of oil. But not this one. I tried many ways to reduce the calorie content in this recipe.
I'm hoping you can see how soft, silky and smooth that beef really is. Plus, the addition of broccoli turns Mongolian Beef into an incredible family loved stir-fry!
The most important step in this recipe is to marinade the beef in a mixture of cornstarch and Chinese wine. The technique that most Chinese restaurants use to create that tenderised texture we love so much is called velveting. It feels like a secret to Chinese cooking. Well, not anymore. Velveting can be made up of a mixture of egg whites, baking soda and wine. In this case, we're using cornstarch, Shaoxing and soy sauce.
What's the best beef to use?
I like to use flank steak for this recipe as it doesn't require a long marinade time and it's super quick to cook. Skirt steak would also work well. If you have thicker steaks, like sirloin, you can pound them thin before cutting and marinading.
Yes, it's super easy to add additional veggies to this recipe. Feel free to add in some diced bell pepper or julienne carrots for additional texture and flavor. Just add them to the skillet to the same time as the broccoli.
How to make Mongolian Beef and Broccoli
Be sure to see the recipe card below for full ingredients & instructions!
Marinate the steak.
Dredge the beed in cornstarch and sauté til crispy. Set to one side.
Cook the ginger and garlic and stir in the remaining marinade ingredients. Simmer to thicken.
Stir in the broccoli and cook ti tender.
Stir in the scallions and beef to coat.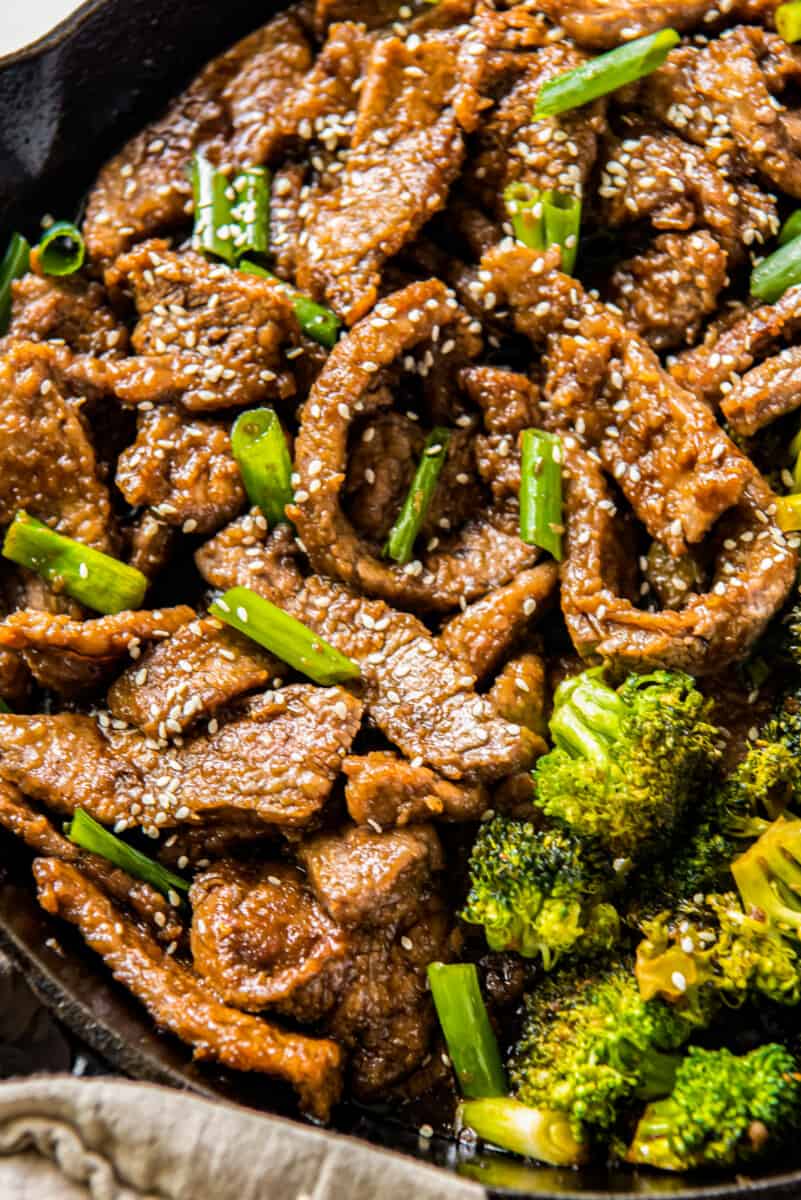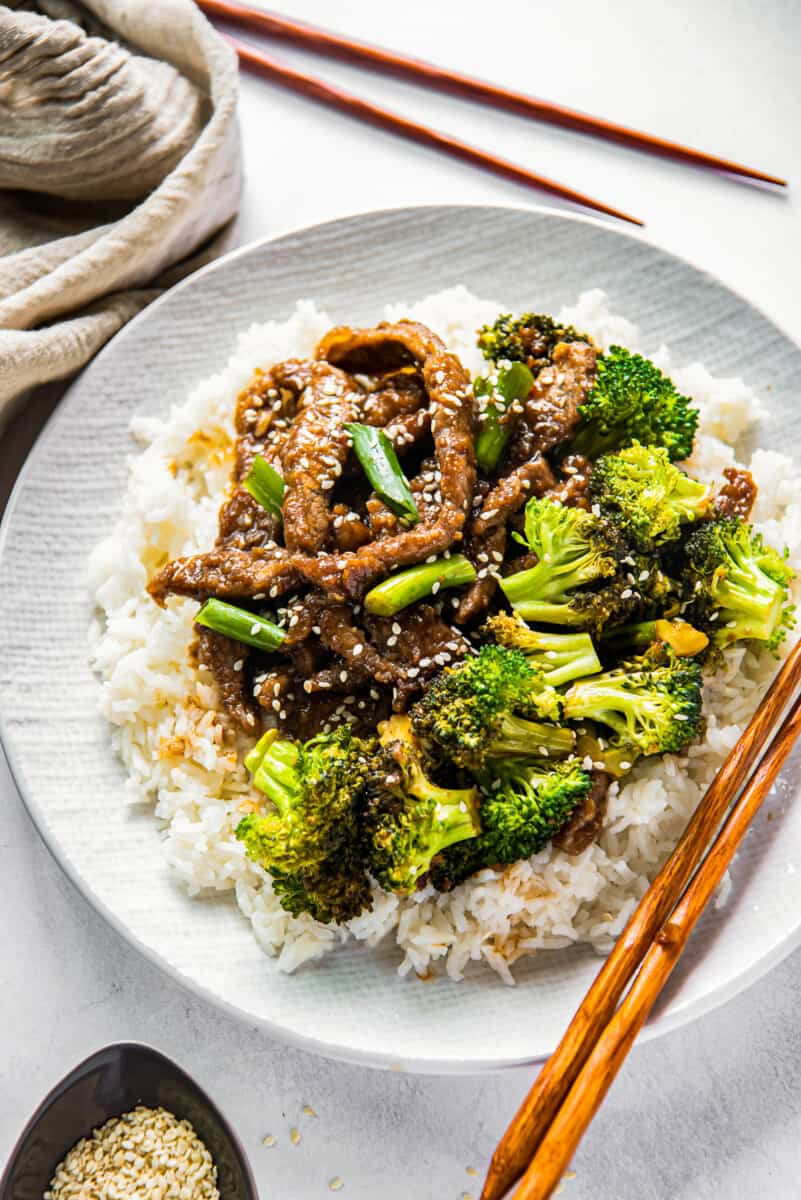 FAQ
What makes Mongolian beef Mongolian?
Mongolian beef is a dish from Taiwan consisting of sliced beef, typically flank steak, usually made with onions. The beef is commonly paired with scallions or mixed vegetables and is often not spicy.
What does Mongolian beef Chinese food taste like?
The dish of Mongolian beef is relatively simple to prepare, consisting of sliced beef mixed with onions or scallions. Often it is served still sizzling with napkins lifted to prevent the spray of hot fat or gravy. The meat is from various beef breeds but not from Mongolian cattle…and not so much fat.