If youre having a small thanksgiving or holiday meal or want something different, try these quick and easy air fryer turkey wings!
If you need an easy recipe for the holidays, then this recipe is for you. Air-fried turkey wings come out juicy and crispy and pack a lot of flavors.
Making turkey wings in the air fryer is so easy and convenient; no brining, stuffing, or deep frying is needed. These turkey wings use regular spices and are air-fried to perfection. You wont believe just how crispy and insanely delicious they are!
If cooking a whole turkey has always seemed daunting, this is a great alternative. It takes less than an hour in total cooking time to make compared to preparing a regular Thanksgiving turkey.
And if youve been sitting on the fence about getting an air fryer, this is the perfect time to get one. You can even put it on your holiday wish list or get it during sales.
If you need a recipe for chicken legs to try in the air fryer, try this crispy baked chicken drumsticks. They are so unbelievably crispy on the outside and tender on the inside without using a deep fryer.
Do You Use Whole Wings or Split?
This is up to you. Split wings (split into drums and flats) will cook at a more even temperature. This is also better for even browning of the skin.
The wing is is made up of 3 parts: the drumette, the wingette, and the wing tip. The drumette looks like a small drumstick and usually has more meat. It's mostly dark meat, is slightly juicier than the wingette.
The wingette is often called the flat, is the middle section that is made of two bones running horizontally through the middle of it with meat in the middle. Because it's thinner, this part normally crisps up easier when cooking them with the thicker drumette portions.
The wing tip doesn't have much flavor, but you can save it if you plan to make homemade broth.
You can separate the wings yourself by cutting at the elbow joint to separate the drum from the wingette. From there you can remove the wing tip to display a flat if you wish.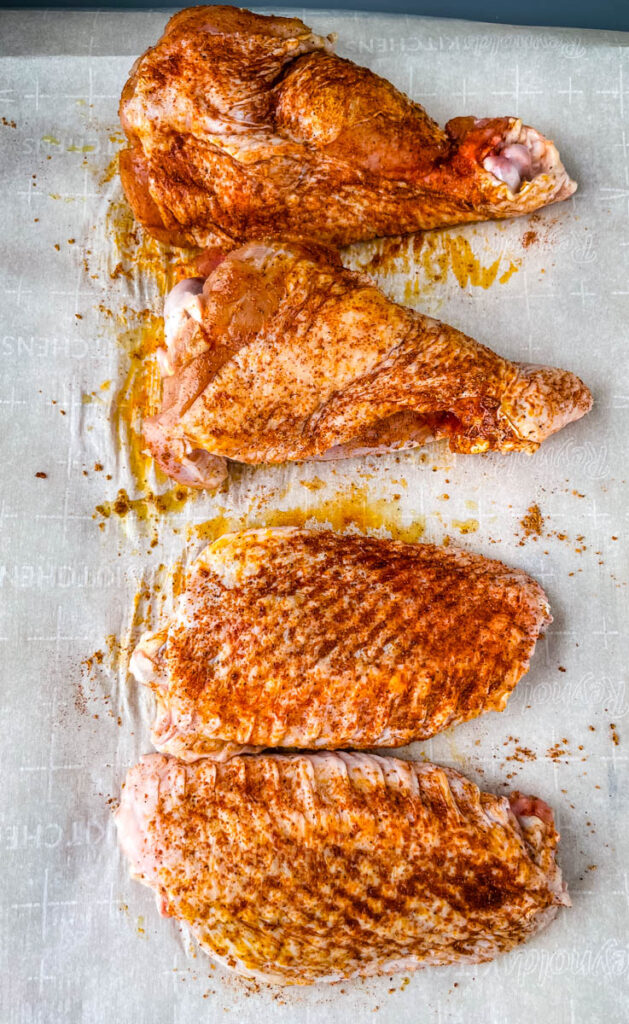 Why I Love This Air Fryer Turkey Wings Recipe
You can easily customize this recipe. Although I included brown sugar in the spice rub, feel free to omit the sugar and turn this into a low-carb and keto-friendly meal.
These can be served as an appetizer, snack, or main course.
Minimal ingredients – You just need turkey wings, spices, and olive oil.
High Protein – More than 50 grams of protein.
Turkey Wings – can't find turkey wings? Use chicken wings instead, this spice rub is insanely delicious and will work on any protein.
Olive Oil – canola or vegetable oil works too.
Salt and Pepper
Spices
Can I Use Frozen Turkey Wings?
I highly recommend using fresh turkey wings but if using frozen, make sure to let them thaw completely before air frying.
Absolutely, preheat your oven to 350 degrees F and bake for 1 hour or until fully cooked through.
FAQ
How long does it take to cook wings in an air fryer?
Place the wings in the fryer basket so they are not touching (if necessary to fit, line up the drumettes standing upright along the sides). Set the air fryer to 360 degrees F and cook for 12 minutes, then flip the wings with tongs and cook for 12 minutes more.
How do you cook raw wings in an air fryer?
Fresh Chicken Wings

Dry your chicken wings. Place your wings in the Air Fryer basket. Close the Air Fryer basket and cook the wings on 400 degrees Fahrenheit for 25-30 minutes shaking every 5-7 minutes. Cook until wings are desired crispiness and at least have a temperature of 165 degrees Fahrenheit.
How long do you air fry wings at 400?
You need to cook frozen chicken wings in air fryer at 400 degrees Fahrenheit for between 23-25 minutes. Make sure to check the wings and break them apart after the first few minutes, and then continue to cook and flip them as needed.
How long do I air fry a turkey?
Place breast in air fryer basket, skin side up. Set air-fryer temperature to 400° F. Cook 45-60 minutes, about 7-10 minutes per pound, until a food thermometer inserted registers 165° F. Let stand for 10 minutes before carving.