What To Serve With Ramen: 15 Best Sides
Tea stained eggs. …
Gyoza dumplings. …
Edamame beans with sea salt. …
Cucumber and chilli salad. …
5. Japanese potato salad. …
Stir fry. …
Yakitori skewers. …
Crispy baked teriyaki tofu.
Ramen noodles have become a staple in many people's diets, providing an easy and affordable way to whip up a tasty meal in a matter of minutes. While ramen is delicious on its own, adding a side dish can truly elevate the dish to another level. But what side dish pairs best with ramen? In this blog post, we'll be diving into the various side dishes that pair perfectly with ramen noodles. We'll explore a variety of recipes that are simple to make, yet sure to impress. From vegetable side dishes to protein-packed ones, we'll provide you with the tips and recipes needed to create the ultimate ramen noodle meal. So whether you're looking for a quick and easy meal or something more creative, this blog post has you covered!
Yakitori Skewers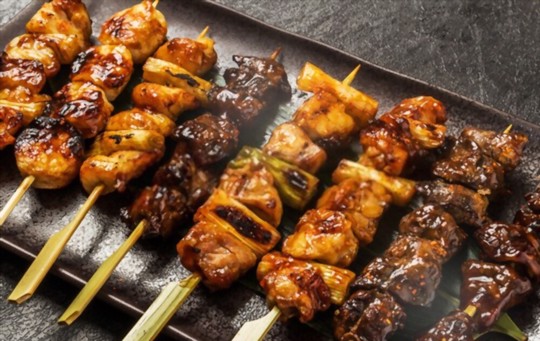 Yakitori skewers are a classic Japanese dish.
They're made with chicken, vegetables, and teriyaki sauce.
Put your preferred chicken and vegetable combinations on skewers, then grill them until the chicken is fully cooked.
The best part is that yakitori skewers are delicious as an entree or an appetizer.
They're perfect for casual gatherings with family and friends.
The 23 best ramen side dishes
Even though side dishes are not common, you can still enjoy other delicious foods with your ramen bowl because the flavors will work together to satiate your appetite and keep you full for longer.
I'm sharing a lengthy list of the top 23 ramen side dishes because of this.
Japanese dumplings called gyoza are fried and filled with ground pork and vegetables. Each dumpling is first steamed, then pan-fried. Gyoza is a type of Chinese dumpling turned Japanese favorite.
You could also try an order of the deboned and stuffed chicken wing gyoza.
There are numerous varieties of potstickers and dumplings available.
Small fried dumplings made in the Chinese style called potstickers come with a variety of fillings, such as beef, pork, chicken, shrimp, seafood, and vegetables. Typically, portions of five or six pieces are provided, and you dunk them in a delicious soy-based sauce.
Shrimp dumplings are another popular side dish. The shrimp's seafood flavors give the noodles a nice flavor boost.
Even though it's not the most popular side dish, fried rice is typically served with ramen in small portions.
Noodles and rice are 2 iconic staples of Asian cuisine. The fried rice usually contains vegetables like peas and carrots.
Actually, one of the most popular ramen toppings is chashu (or nibuta). It consists of fatty pork slices that have been braised, simmered, or roasted.
It's a juicy cut of meat that gives ramen a ton of meaty flavor. It melts in your mouth and adds great tenderness to any bowl of ramen.
You can also order more as a side dish if you like it.
Banh-mi is a Vietnamese type of sandwich. Typically, a sourdough baguette with chicken or pork, cucumber, carrots, pickled daikon, and cilantro is used to make it.
Grilled Teriyaki Veggies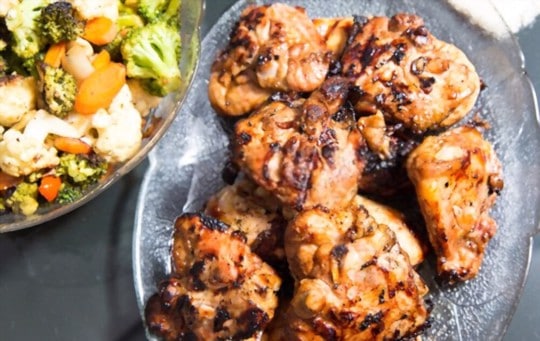 This side dish of grilled vegetables is excellent with tonkatsu ramen.
The vegetables acquire a hearty texture and a fantastic smoky flavor that can only be achieved by grilling.
And, it's really easy to make.
Simply cut up your preferred vegetables and cook them until they are charred and appear delectable over a direct flame.
The best part is that you can use any type of vegetable you want.
Asparagus, bell peppers, onions, and zucchini all work great.
FAQ
What sides can you eat noodles with?
View All
1 of 18 Pesto Caesar Salad.
2 of 18 Mint and Pea Pesto on Toasted Baguette.
3 of 18 Roasted Broccoli with Garlic and Anchovy.
4 of 18 Garlicky Sautéed Mushrooms.
5 of 18 Arugula Salad with Parmesan Vinaigrette.
6 of 18 Brussels Sprouts with Bacon, Garlic, and Shallots.
7 of 18 Hot Bacon Caprese Salad.
What do you serve ramen bowls with?
Some ideas on what to put in your homemade Ramen bowls.
Soft-boiled egg with a jammy yolk.
Narutomaki (fish cakes; you've likely seen them. They're the thinly-sliced rounds with pink spirals in the middle).
Enoki mushrooms.
Nori (dried seaweed)
Bamboo shoots.
Bean sprouts.
Corn kernels.
Scallions.