Spray the tops of the cutlets with some cooking spray, that will help to keep the tops crispy and get golden in color. Bake at 400°F for about 15-20 minutes or until the internal temperature reaches 165°F.
Crispy oven-baked chicken cutlets with a fantastic golden-crisp exterior and an incredibly juicy interior. For a delicious chicken dinner that everyone will adore, make this healthier version of fried chicken in under 30 minutes!
You will adore the amazing golden crispy crust and perfectly juicy interior of these oven-baked chicken cutlets!
This healthier "fried chicken" recipe for chicken is simple to prepare and does not call for deep-frying in oil. The majority of people have actually told me they cannot believe it is not fried because it is so unbelievably delicious, so trust me on this!
What could be better than flavorful, crispy breaded chicken that goes with just about anything, reheats well, stores well, and can be easily topped with tomato sauce and cheese for a kid-friendly, healthy Chicken Parmesan?
Ingredients for Baked Breaded Chicken cutlets
Chicken Breasts: You will need about 4 chicken breasts for this easy chicken cutlet recipe. I always opt for boneless and skinless because it's just so much easier!
Italian Seasoning: Such a versatile seasoning, this is one that most people already have in their spice cabinet. It yields an aromatic and simple flavor that really helps to make this chicken amazing.
Olive Oil: A great vegetable oil that can be used at high temperatures, high quality olive oil has natural aromatic flavors that are robust and so delicious.
Egg: The egg in this crispy baked chicken recipe helps to hold all of that delicious breading on the chicken cutlets. A quick dip in the egg mixture ensures that you get the maximum breading without being too thick.
Milk: When whisked together with the egg, the milk helps to perfectly coat the raw chicken cutlets so that the perfect ratio of breadcrumbs to chicken sticks on.
Panko Breadcrumbs: The combination of panko, fresh Parmesan cheese and garlic powder makes the ultimate breading for your chicken! It's light but still packed with flavor for the perfect combination.
Fresh Grated Parmesan Cheese: Freshly grating your cheese is always the way to go! Pre-shredded cheese has a harder time melting, and once you grate your own, you'll never go back! The taste is so much better.
Garlic Powder: The breading is what really sets this oven fried chicken recipe apart, and that's where the garlic powder comes in. It gets added to the breading mixture to give a rounded out and perfectly seasoned outer coating to the chicken.
Smoked Paprika: Pungent dried paprika is used to season the chicken with classic aromatic flavors. If you do not have smoked paprika, then regular paprika will work.
Sea Salt and Pepper: The seasonings for this crispy chicken cutlet recipe are really so simple, but that's what makes them so delicious! You can use salt and pepper to taste, but I personally like to use sea salt and fresh cracked pepper.
Cooking Spray: I like to use avocado cooking oil spray to keep things light and healthy. However, any neutral oil spray will work here, such as an olive oil spray.
Fresh Chopped Parsley: To add a little bit of color and freshness to our baked chicken, I like to sprinkle some fresh parsley at the end! Of course, if you don't have any on hand you can omit it with no problem.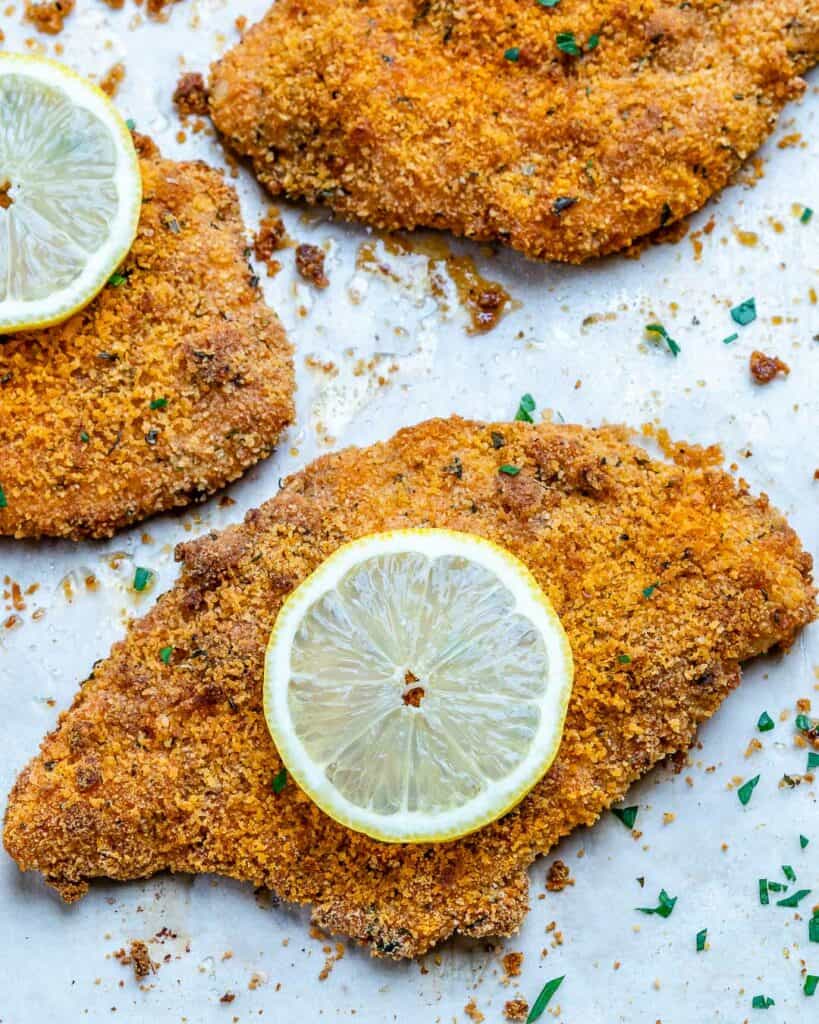 Why this Crispy Baked Chicken cutlet recipe is the best
So good: this baked chicken recipe is so crispy on the outside and tender and juicy on the inside. If you are a fan of the fried chicken cutlets that most Italian restaurants serve, you will be pleasantly surprised with this healthier (and tastier!) homemade version!
Kid-friendly: just like adults, the kids will love these crispy chicken cutlets! The ingredients are simple, and you can even serve this crispy chicken with your kiddos favorite pasta to make it even more delicious.
Simple and easy: it's really easy to prep these chicken cutlets and pop in the oven. No frying needed which means no oil popping all over the stove. And because the ingredients are so simple, you might already have all if not most of them on hand already! It's a win win!
Do you need to flip over when baking?
We advise cooking it on one side only, as this produces a top crust that is well browned and crispier and a bottom crust that is a little softer.
Chicken – Use store bought cutlets or you can start with whole breasts and slice them in half and pound lightly to get the desired thickness.
Flour: all-purpose flour
Eggs: It helps to hold all of that delicous breading on the meat.
Panko Breadcrumbs: For a lighter and crispier crust
Milk and Lemon: This helps in tenderizing the meat, acting as a buttermilk marinade.
Seasoning: The combination of a simple garlic powder, cayenne and black pepper for a simple, yet flavorful seasoning.
Play around with different breading seasonings. While these are delicious as-is, you can add some seasonings into the marinade to elevate the flavor even more. (Check out more suggestions below).
Use a meat thermometer to gauge doneness. The safe internal temperature of cooked chicken is 165°F. Take the guesswork out of gauging doneness by investing in an instant read thermometer.
Try to pound the meat into an even thickness so you dont end up unevenly cooked areas.
Dredge well – Using hands or tongs, make sure to press panko mixture well on all sides to help it adhere well and give a thicker coating.
Don't overlap: Placing the food in a single layer without over lapping will allow even cooking.
FAQ
How long does it take to bake thin chicken breasts at 400?
Boneless chicken breasts should be thinly sliced in no more than 15-20 minutes at 400°F. Depending on how thinly the chicken is sliced at 350°F, it might take 25–30 minutes.
How long does it take to cook chicken cutlets at 350?
Cooking advice Cook the chicken breast for 25 to 30 minutes at 350°F (177°C). Check that the internal temperature of the meat is 165°F (74°C) using a meat thermometer.
How long does it take to cook thin chicken breast at 375?
Information on general temperatures and baking times for chicken is provided below: 350 degrees: 30 to 35 minutes 375 degrees: About 30 minutes. 400 degrees: 25 minutes.
How long does it take to cook thin chicken breast in the oven?
It takes 15-20 minutes to bake thinly sliced chicken breasts or until the internal temperature reaches 165°F. Checking the internal temperature of the meat with a meat thermometer is highly advised. To avoid dry chicken, turn off the oven as soon as it reaches 165°F. Let the chicken rest for 5 minutes before serving.