Instant Pot Cooking Times for Frozen Boneless, Skinless Chicken Breasts
small (6-8 ounce) frozen chicken breasts – cook 11-12 minutes at high pressure, plus 10 minutes natural release.
medium (9-10 ounce) frozen chicken breasts – cook 13-14 minutes at high pressure, plus 10 minutes natural release.
There is no need to stress out if you forget to thaw the chicken for dinner. Your frozen chicken breasts will become tender and juicy in the instant pot in just a few minutes!
Try some of my favorite dinner recipes, like this instant pot lasagna, this meatloaf, or this delectable beef stroganoff; your family will go crazy for them. Isn't the instant pot the best? You can cook so many different things in it.
All I have is a bag of frozen chicken in the freezer, but it's too late to even consider using a crock pot after a long day, and I can't tell you how many times I've forgotten that we had nothing in our fridge to eat. Along comes this recipe to save the day!.
You won't ever again spend hours in advance preparing your chicken to achieve the ideal flavor. I love adding it to rice or pasta and then combining it with a few different vegetables for sides. Stock up your freezer with some frozen chicken and you'll never have to eat microwaved or fast food at the last minute again. This chicken comes out juicy, flavorful, and the best part is that you can add it to any kind of meal.
How do I cook frozen chicken?
Okay, so first make sure they're separated into smaller pieces rather than being in one large chunk. That prevents each piece from properly defrosting or cooking through to the center.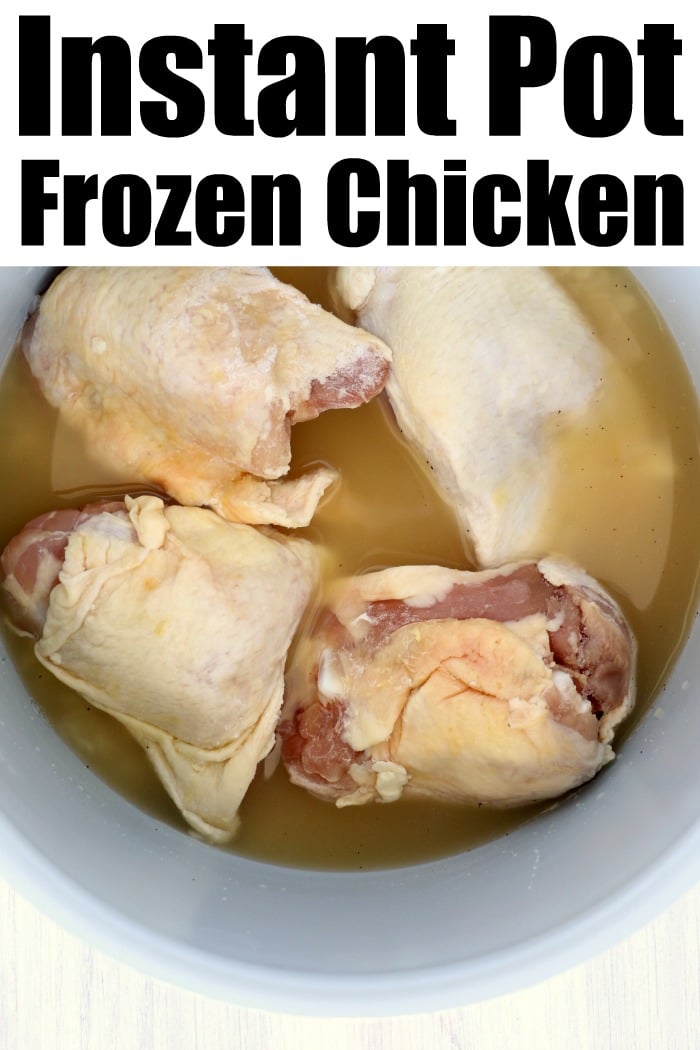 How to Cook Frozen Chicken in the Instant Pot
You should make sure to always have this instant pot chicken breasts recipe on hand because it is so simple. After using it once, you won't ever have to buy fresh chicken again! It can be used for pretty much anything!
Add Broth: Pour the chicken broth into the instant pot.
Season Chicken: Place the frozen chicken breasts on top of the broth. Season with salt and pepper.
Cook: Close the lid, select seal, and cook on high pressure for 12 minutes. The cook time depends on how thick your chicken breasts are. I try to select thinner cut breasts when I cook them in the instant pot to ensure they cook evenly. You may need to cook the chicken longer if you use thicker breasts.
Natural Release: Once the steam is naturally released, open the lid and remove the chicken from the instant pot. Season with salt, pepper, and any other seasonings you desire.
Slice: Slice the chicken and enjoy, or use as needed in other recipes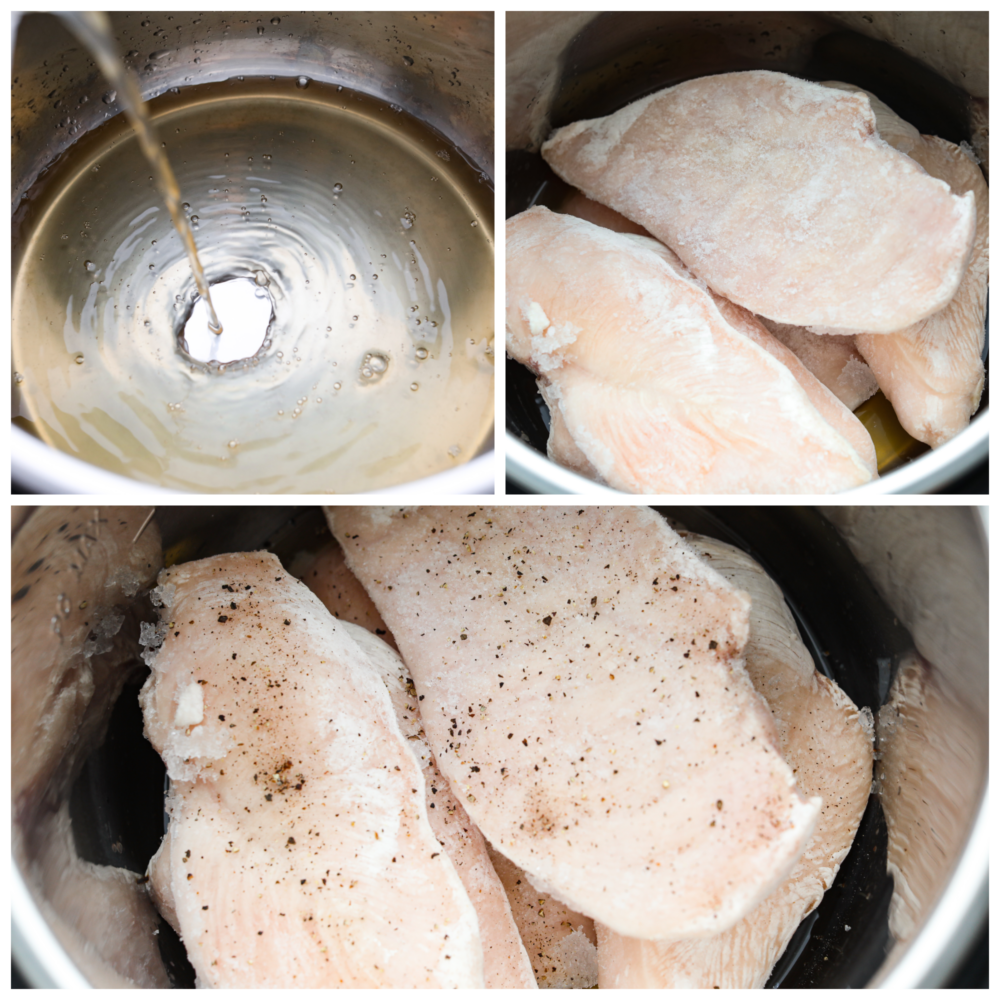 Can I refrigerate chicken after cooking?
Allow the chicken to cool completely before storing it in freezer bags or airtight containers. To be safe and to preserve the best flavor and texture, use it up within two days.
I believe we have provided you with an answer to your query: Can you put frozen meat in an Instant Pot here!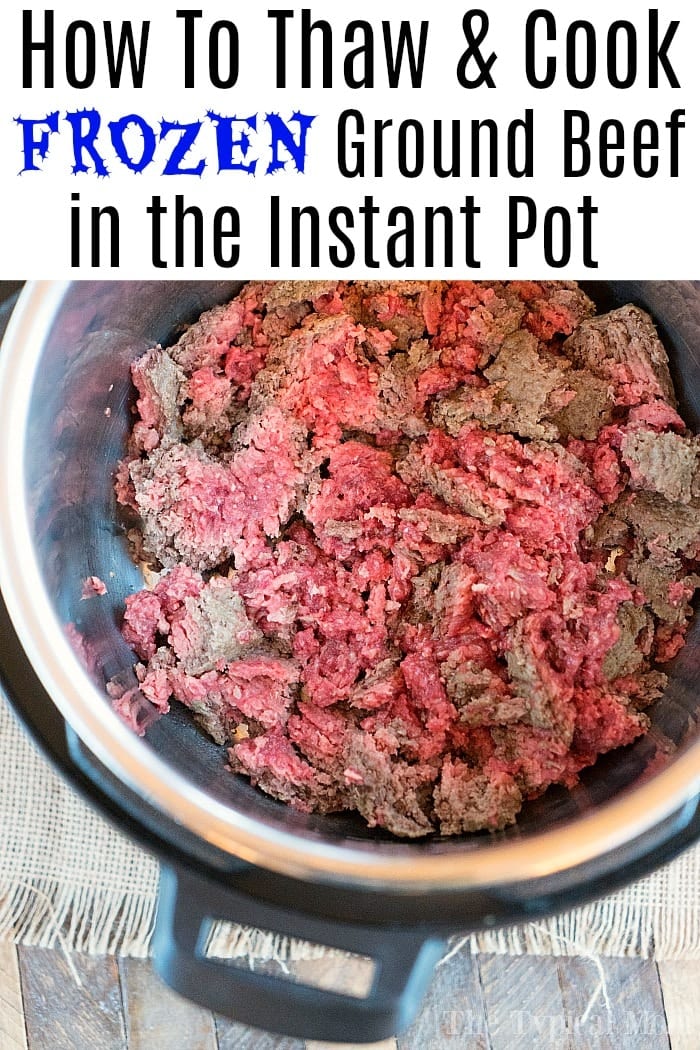 The answer is a resounding YES!!
You can even cook Instant Pot frozen ground beef if you've forgotten to defrost it beforehand.
To be completely honest, using freshly thawed meats is preferable, but these suggestions are great if you're in a pinch.
If you're making something like a soup or our VERY well known Instant Pot chili you probably wouldn't know the difference. Fresh or defrosted hamburger using this method work great. Frozen ground sausage works too with this technique.
Want to see a few of my favorite things that I am totally obsessed with?? Take a peek and see how many you might already have…twinsies!
Looking for more easy family recipes and tips? LIKE The Typical Mom Facebook page?
Then subscribe to my newsletter for free and follow me on Pinterest!
***** Please rate this recipe with 5 stars if you enjoyed it and let everyone know what you thought. .
I hope you can use this to create a lot more fresh InstaPot recipes.
FAQ
How long does it take to cook frozen chicken breast?
These approximate cooking times are based on an oven temperature of 350 degrees F, and a minimum internal temperature of 165 degrees F.
30 to 45 minutes for frozen boneless chicken breasts weighing 4 to 6 ounces.
45 to 60 minutes for frozen chicken breasts (bone-in) weighing 6 to 8 ounces.
How long do you cook frozen in the Instant Pot?
Usually frozen meat will take about 1. 5 times as long as fresh meat to cook. For instance, cooking chicken breast at high pressure takes 8 minutes for fresh chicken breast and 12 minutes for frozen chicken breast.
How long does chicken breast take in Instant Pot?
Depending on the thickness of the breasts, pressure cook fresh chicken breasts for 8–10 minutes on high or frozen chicken for 12–14 minutes. No matter how much chicken you add to the pot, the cooking time remains the same; the pressure buildup takes longer.
How long does it take to cook 5 lb of chicken breast in the Instant Pot?
Amount of Chicken Breast by Weight# Servings on Recipe CardInstant Pot Cook Time (Frozen Chicken)2 lbs. 10 minutes, 3 lbs. 15 minutes, 4 lbs. 2013 minutes, and 5 lbs. 25 minutes