What Vegetables Are Used for Singapore Noodles?
In Singapore Noodles, vegetables like carrots, napa cabbage or regular cabbage, onions, and scallions are frequently used. Some versions have very few vegetables, if any.
With this recipe, we stuck to tradition, but you can adapt it by adding additional ingredients like celery, bean sprouts, mushrooms, bell peppers, or anything else in the refrigerator. But stick to our ingredients if you want the familiar dish you get from restaurants.
Just be sure to take the time to thinly slice the red onion and julienne the napa cabbage, carrot, and scallions.
Each vegetable should be roughly cut into the same shape. Everything in this noodle dish must be cut into thin strips to match the shape of the noodles (with the exception of the shrimp, of course).
Singapore Noodles recipe
In Australia, Singapore Noodles are so well-liked that they are frequently offered on the menus of suburban Chinese restaurants, whether or not they also serve other Singaporean dishes.
However, Singapore Noodles will elude you just as much as the mythical claim that there are koalas in every Australian backyard if you try to find them there.
Singapore Noodles are delicious, and we will always love it!
Why you would like this recipe
All of the ingredients are available at your neighborhood grocers and supermarkets. You won't need to visit any Chinese grocers Due to the ease of the sauces and seasonings, you may already have all the ingredients on hand.
For a novice home cook, recreating Chinese takeout and stir-fries from a restaurant can be quite difficult. However, using this simple recipe and a nonstick wok or pan, anyone can make delicious Singapore style noodles at home. No special wok skills or equipment is needed.
Dinner ideas that are straightforward, wholesome, and affordable that both children and adults will love
Curry powder – We usually use hot Madras curry powder in our Singapore Chow Mein. You can use your favourite curry powder mild/hot.
Protein – Add your favorite shrimp, prawns, chicken, char siu, bacon, or your choice of protein cut into small dices.
Rice noodles – Rice vermicelli noodle is ideal for this recipe. It is also known as rice stick, mei fun noodles, or fine vermicelli noodles. Instead of rice noodles, you can also use egg noodles, wheat noodles, or glass noodles.
Vegetables – Feel free to add your favourite stir-fry vegetables. Carrot, cabbage, onions, bean sprouts, spring onions ( green onions ), bell peppers, baby corn, and mangetout are commonly used in Chinese takeaway Singapore noodles recipes.
What is chicken powder? Chicken powder is chicken bouillon/stock powder, it brings umami flavour to the dish.
Vegetarian option: To make vegetarian Singapore noodles you can use firm tofu, mushroom, or Quorn meat as a meat and seafood substitute. Season the dish with vegetarian stir fry sauce ( mushroom stir fry sauce ), or vegetarian seasonings powder instead of chicken powder.
First, soak the rice vermicelli in the hot water for 8-10 minutes, then drain the water out, rinse with cold water and set it aside. ( Or you can prepare by the packet instructions. )
Beat two eggs with a pinch of salt. Heat the large wok/pan over medium-high heat, drizzle 1 tbsp of oil and stir fry the eggs and crumble it into small pieces. Remove from pan and set it aside.
Add more oil to the remaining pan, and saute the chopped garlic for a few seconds until fragrant. Then add the chicken pieces and stir fry until no longer pink. Follow with the prawns and continue to stir fry for another 1-2 minutes.
Season with salt, pepper, and curry powder. Remove from pan and set it aside.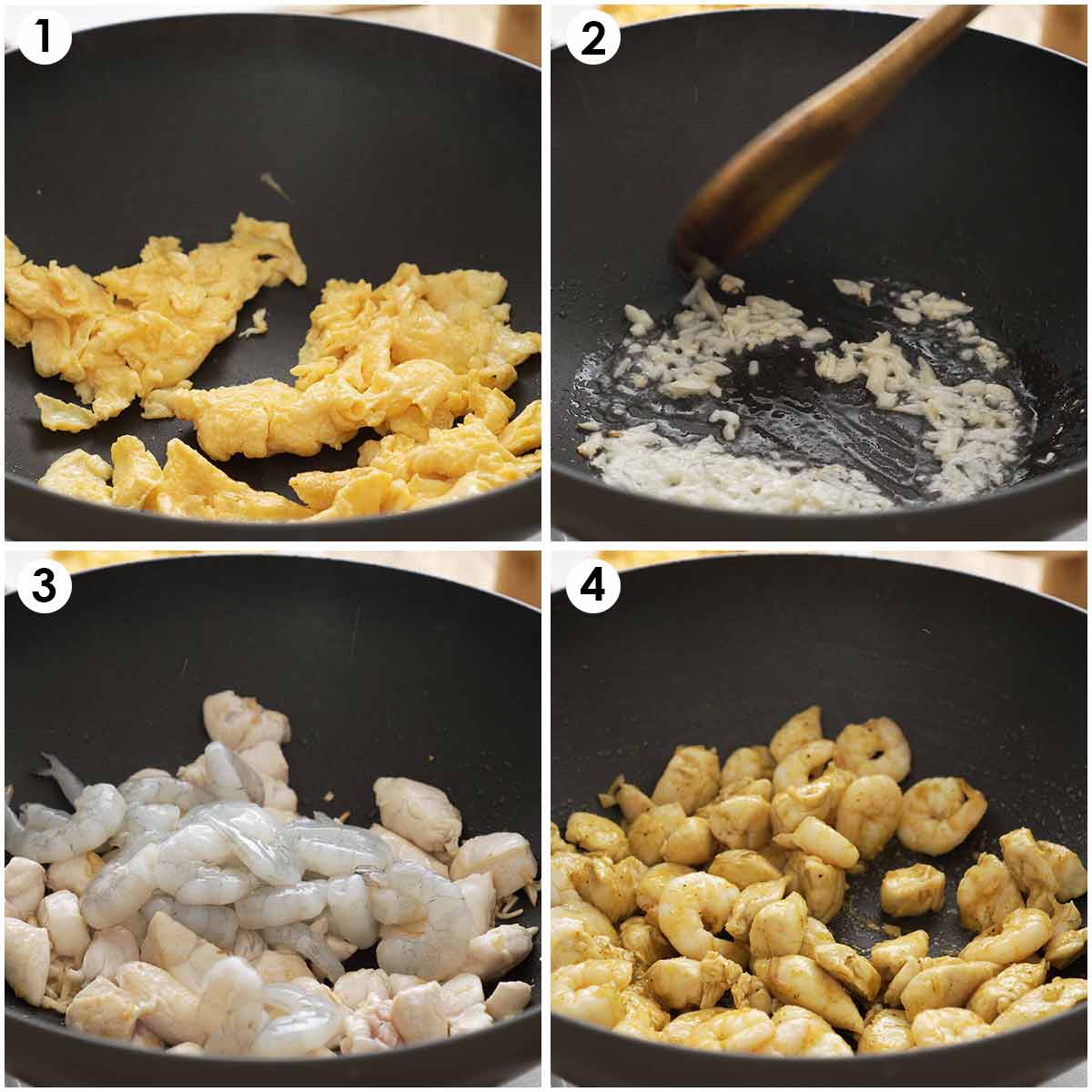 Add more oil to the same pan, stir fry the onions for a few seconds, and follow with vegetables.
Now add the noodles to the wok and season with light soy sauce, dark soy sauce, sugar, chicken powder, and curry powder. Toss it well for a few seconds.
Place the cooked chicken, prawns, eggs and combine everything and cook for another 1-2 minutes.
Finish with spring onions, make a taste test, and add more salt or pepper to your taste. Transfer to a serving plate and serve immediately while hot.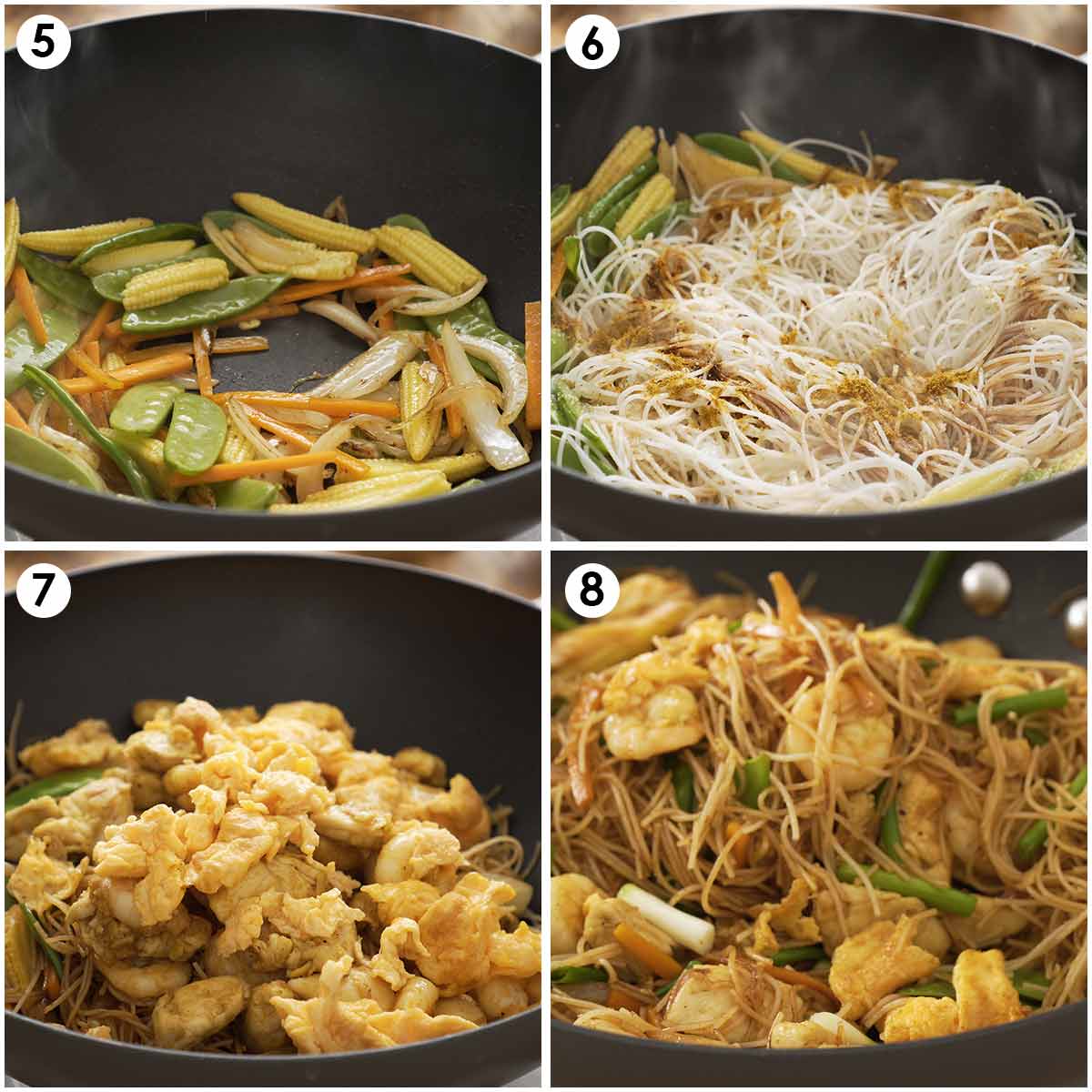 Make sure not to overcook the rice vermicelli noodles. Even though rice noodles packaging contains cooking instructions I dont always follow the instructions. I soak the dried noodles in hot water and let it sit for a few minutes then drain the water out.
Dont forget to rinse with cold water to remove any excess starch to prevent the noodles from sticky and mushy. You can also toss the noodles with a dash of vegetable oil or sesame oil. The oil keeps the noodles in strands and less sticky.
If you want to use less oil, use a good quality non-stick wok or pan. I love to cook with a non-stick wok for busy days as it is also fast and easy to clean up. But if you are a Wok Hei fan, you will need to fry with traditional Chinese wok.
Cut the rice noodles in half lengths before adding to the wok. It is easy to toss in the wok if you cut the noodle strands a bit short.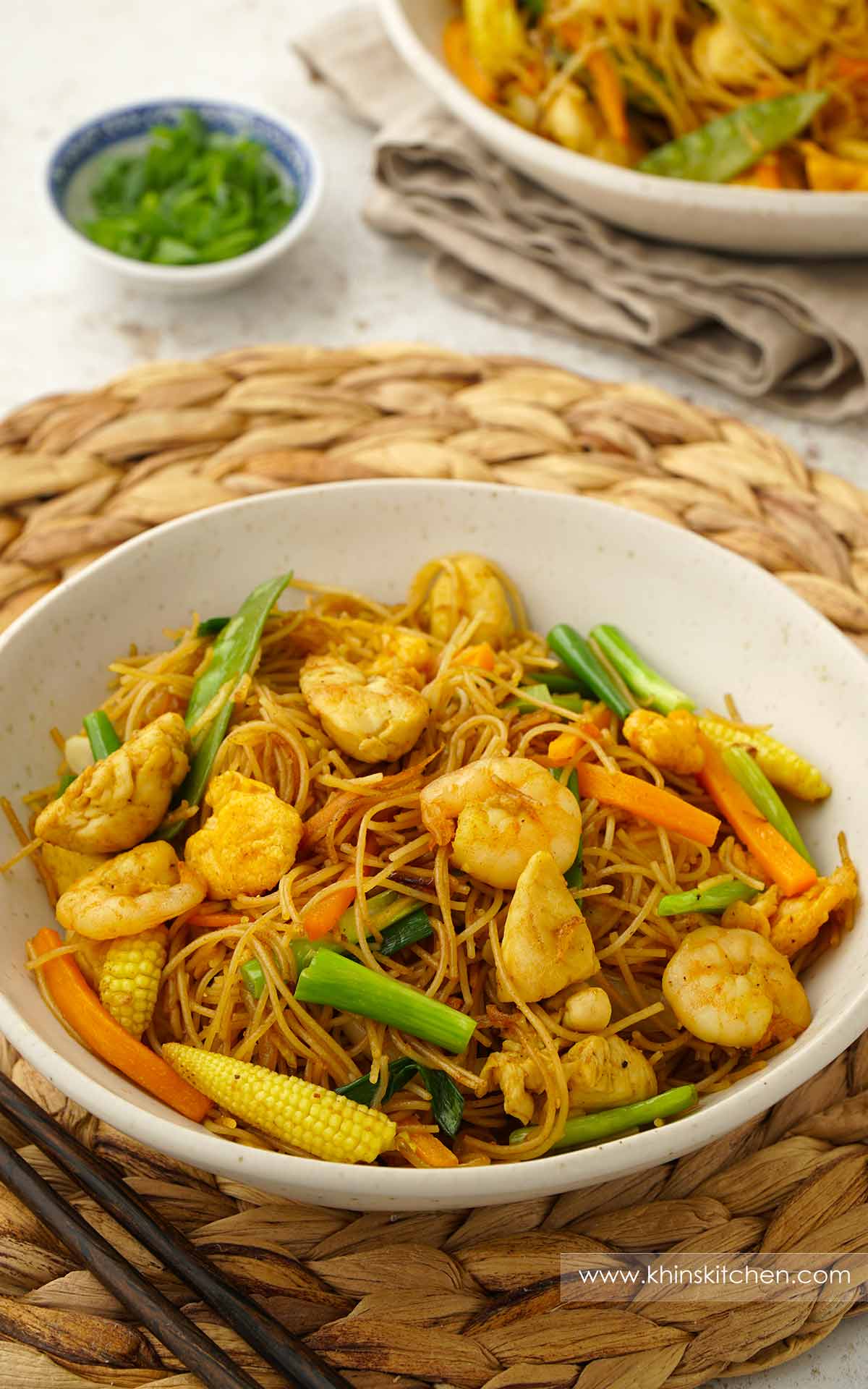 The addition of curry powder to the Westernized Singapore Chow Mein is the primary distinction. Basic stir fry ingredients and seasonings are similar in general. Mei fun, mee hoon, or chow mei fun are the names for this rice noodle dish in Singapore, China, and other Asian nations.
Like other stir-fries, it tastes best when freshly cooked. However, you can prepare ahead of time, store it in the refrigerator in an airtight container, and then reheat it in a microwave or on the stovetop. Because the rice noodles might dry out the next day, add a little water.
Use a sizable wok or pan that can evenly distribute heat to all of the ingredients and double, triple, or more the ingredients. Fry with batches and do not overcrowd the pan.
Depending on your preference, you can make it hot or mild. You can add hot curry powder or crushed chilli flakes if you like it spicy.
FAQ
What noodles do they use in Chinese takeaways?
The most popular and ideal noodles to use for a chicken chow mein takeaway-style recipe are egg noodles, which are frequently found in Chinese takeaways. I tested this recipe using dried, white noodles without eggs. It must be boiled in hot water for five minutes or so to soften it.
What are the ingredients for Singapore noodles?
Singapore Noodles are made with thin rice noodles, prawns or shrimp, Chinese BBQ pork, eggs, and red capsicum or bell peppers, and have a distinctive curry flavor and yellow color.
What is the difference between chow mein and Singapore noodles?
The addition of curry powder to the Westernized Singapore Chow Mein is the primary distinction. Basic stir fry ingredients and seasonings are similar in general. Mei fun, mee hoon, or chow mei fun are the names for this rice noodle dish in Singapore, China, and other Asian nations.
Why are Singapore noodles yellow?
Stir-fried rice vermicelli with cabbage, carrots, egg, and shrimp is known as Singapore Noodles. The distinctive yellow color and curry flavor of Singapore Noodles are created by a generous amount of curry powder, but I also add a small amount of ketchup and rice vinegar for a sweet and tangy twist.
Are Singapore noodles Chinese?
Singapore Noodles, also known as Singapore Mei Fun, are a well-liked item on any Chinese take-out menu. Make it at home with our restaurant-style recipe!.