Lo mein vs chow mein: are they the same thing or are they different, and which one is the better noodle dish? Both Chinese noodle dishes are extremely popular and readily available at most restaurants, so make sure you know which you want to order!
When it comes to Chinese food, we all know our favorite orders, but how much do we really know about the subtle differences between these noodle dishes?
After all, some Chinese restaurants in the US list them interchangeably. Chow mein and lo mein are both savory noodle dishes filled with an assortment of vegetables and possibly meat, tofu, or seafood.
Both chow mein and lo mein arrived on the shores of America with Cantonese immigrants many years ago. They have delighted generations of people in their new homeland ever since!
Let's start with how these dishes are the same. Both use egg noodles made of similar ingredients to that of the typical Italian pasta, wheat flour and eggs. *However, rice flour or mung bean starch may also be used.
This is where the similarities end. The main difference between the two is in the way they are cooked.
Lo mein uses a wider, fresh, chewier noodle while its counterpart enjoys a thinner version that can be either fresh or dried. If you're deciding between the two, you might find a preference for one texture or another.
Lo mein noodles are added towards the end of cooking because they are cooked prior to mixing them in with the remaining ingredients. Lo mein translates to meaning "stirred noodles".
Plus, lo mein noodles are all about the sauce. Lots of delicious, rich, savory sauce is tossed with the tender noodles to make them delightfully addictive!
The noodles soak up a lot of it, flavoring and defining the dish. *Alternatively, the meat and vegetables can be poured over the top of the noodles along with the sauce and mixed up off the stove entirely.
I have three brands of lo mein noodles that I can usually find and that I like to use. Simply Asia (pictured here), Wel-Pac, and Ka-Me Chinese wide lo mein noodles.
Simply put, in chow mein, par-boiled noodles are tossed in a wok with enough oil to make them a bit crispy. Chow mein literally translates to "stir-fried noodles".
Chow mein noodles are par-boiled only long enough to loosen up the pasta. Then they are frequently stir fried with meat, tofu, or shrimp plus celery, onion, or bean sprouts and other vegetables.
These noodles are generally added at the beginning of cooking and are stir-fried briskly with the remaining ingredients and a bit of oil until slightly crisp.
■What are the "Three Greatest Yakisoba in Japan?
Earlier we mentioned that Yokote City in Akita Prefecture is the birthplace of Yokote Yakisoba, one of the three most famous yakisoba in Japan. This means that there are two other famous "regional yakisoba" in Japan. In this section, the characteristics of each of the three major regional yakisoba in Japan will be introduced.
1. Yokote Yakisoba First, let me better describe Yokote Yakisoba, the prototype of today's Japanese yakisoba. As mentioned earlier, Yokote yakisoba originated in Yokote City, Akita Prefecture. It is seasoned with Worcestershire sauce with dashi (Japanese soup stock), which makes it slightly moist and sweet. It is also characterized by its use of cabbage and minced pork as ingredients, topped with a fried egg. The garnish is fukujinzuke pickles instead of the red pickled ginger that is commonly served with yakisoba. Yokote yakisoba is so popular among Japanese people that it has won a championship title at the B-1 Grand Prix (the local gourmet festival mentioned earlier) once and runner-up once, respectively.
2. Fujinomiya Yakisoba This yakisoba is famous for promoting regional yakisoba throughout Japan. It originated in Fujinomiya City, Shizuoka Prefecture, where it has been enjoyed for many years, but since winning the championship in the first and second editions of the B-1 Grand Prix, the dish is well known nationwide. Its distinguishing characteristic is the firmness of the noodles, a satisfying treat. Other features include the use of niku-kasu (Pork back fat after squeezing out the lard) and sardine fish powder as ingredients. The unique flavor is addictive, and many people visit Fujinomiya City to enjoy the authentic taste.
3. Ota Yakisoba Ota Yakisoba, the last of the three major yakisoba in Japan, is a regional yakisoba served in Ota City, Gunma Prefecture. Unlike the other three local yakisoba of this list, Ota yakisoba does not have a clearly defined characteristic in terms of seasoning or cooking method. Rather, the many variations of yakisoba offered at restaurants in the Ota area, each with its own twist on noodles and ingredients, make up the concept of Ota yakisoba. The website of the Jyoshu Ota Yakisoba Norenkai (上州太田焼そばのれん会), an organization of stores offering Ota Yakisoba, boasts that "no two are alike."
In fact, there are many other fascinating regional yakisoba dishes in addition to the three major Japanese yakisoba mentioned above, but I would like to introduce only one of them in this article. It is Hiruzen yakisoba, which is served in the Hiruzen region of Maniwa City, Okayama Prefecture. This yakisoba is characterized with a rich, sweet and spicy flavor from a mix of Genghis Khan sauce and miso sauce. It's popular with chicken and cabbage. In fact, Myojo USA's PREMIUM SAVORY MISO YAKISOBA was developed as a nod to Hiruzen Yakisoba. Its appeal is different from regular yakisoba with Worcestershire sauce, so if you are interested in Hiruzen Yakisoba, please try it as well.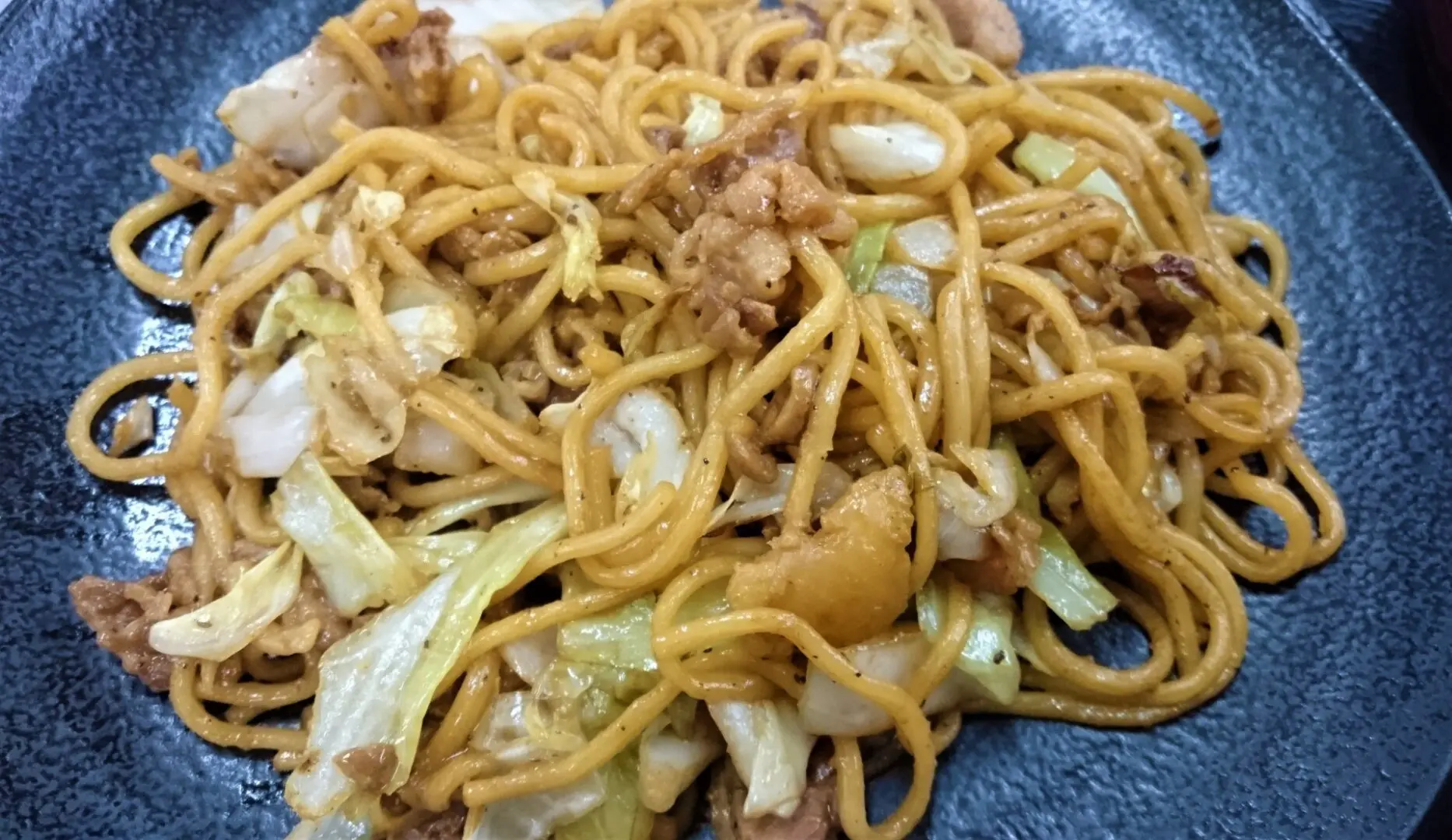 Additionally, if you would like to learn more about the Japanese regional yakisoba scene beyond the information presented here, please try a Google search for the keyword "ご当地焼きそば" in Japanese (it means "regional yakisoba"). You will surely be able to catch a glimpse of the profound world of regional yakisoba in Japan.
The most common places in the United States to find Japanese-style yakisoba are Japanese restaurants and izakaya (Japanese-style pubs). You may also find yakisoba at some ramen shops and food courts of Japanese supermarkets. Perhaps outdoor events related to Japanese culture would exhibit food stalls serving yakisoba.
However, it is true that the environment in which people can casually order yakisoba is not yet widespread in the United States, so why not try making yakisoba at home? Yakisoba is a very simple dish that can be quickly prepared outdoors. All you need is your favorite meat and vegetables, sauce, and yakisoba noodles. For the meat and vegetables, get what you like at your local supermarket (vegetarians can skip the meat). As for the sauce and yakisoba noodles, you can count on Myojo USA! Cook up some authentic Japanese-style yakisoba at home with the following products.
Premium Yakisoba Series

PREMIUM ORIGINAL YAKISOBA https://www.myojousa.com/product/premium-original-yakisoba/ PREMIUM SAVORY MISO YAKISOBA https://www.myojousa.com/product/premium-savory-miso-yakisoba/
Thick noodles with chewy texture
The noodles are served to the most suitable thickness according to the seasoning of the sauce
Liquid type sauce with concentrated flavor
2 servings per package
Signature Yakisoba Series
SIGNATURE ORIGINAL YAKISOBA https://www.myojousa.com/product/signature-original-yakisoba/ SIGNATURE SALT & PEPPER YAKISOBA https://www.myojousa.com/product/signature-salt-pepper-yakisoba/ SIGNATURE CURRY YAKISOBA https://www.myojousa.com/product/signature-curry-yakisoba/ SIGNATURE YAKISOBA NOODLES ONLY https://www.myojousa.com/product/signature-yakisoba-noodles-only/
Medium thin noodles with chewy texture
Powder type sauce
3 servings per package
In fact, we have some exciting news. Two new products will be added to Myojo USA's Yakisoba lineup! The first is "SPICY HABANERO" from the Premium Yakisoba Series.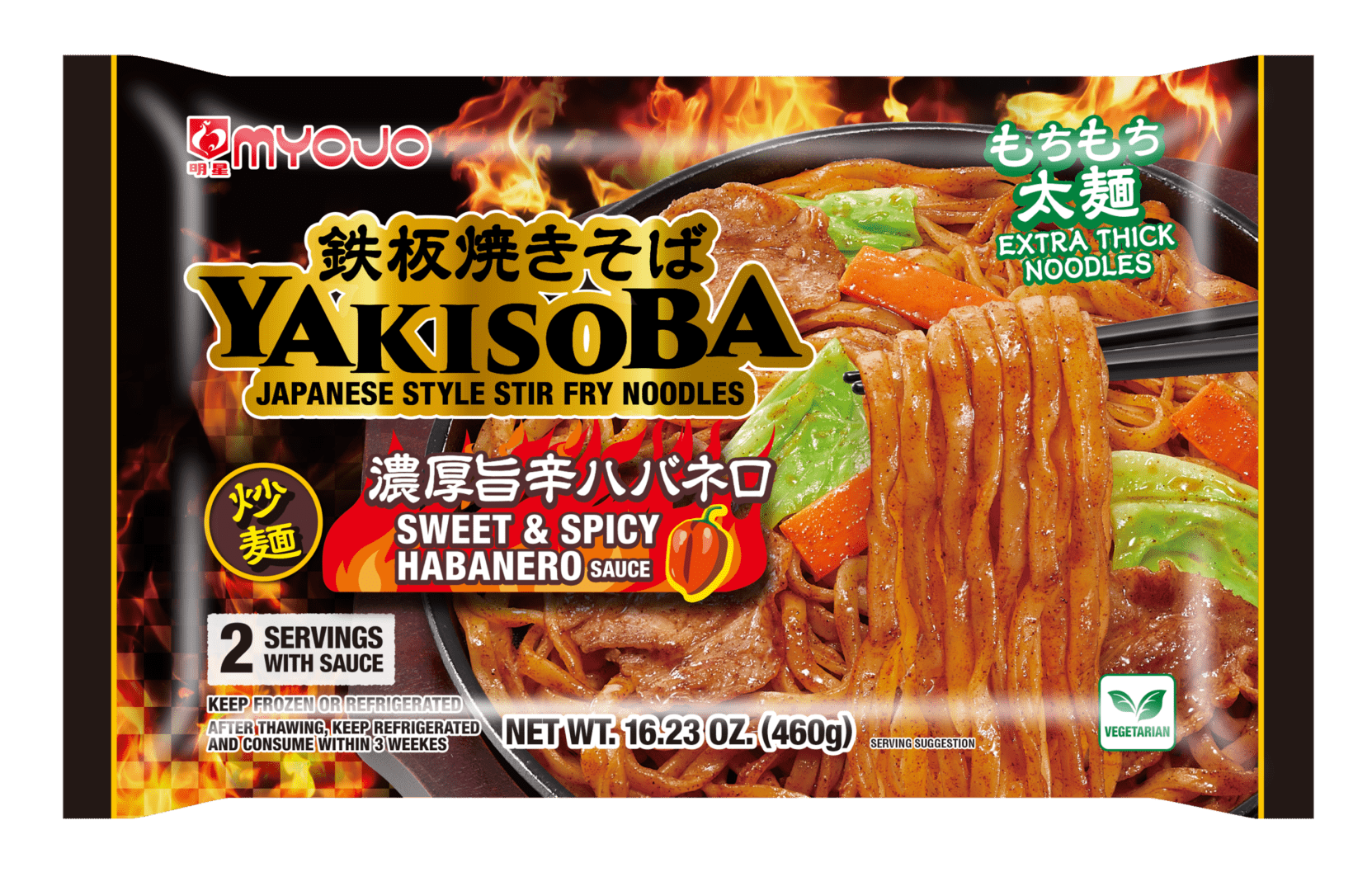 This yakisoba has an addictive flavor that combines the spiciness of habanero with the rich sweet and spicy taste of vegetables and fruits. Like the other Premium Series products, the noodles are thick and chewy, making them a perfect match for the rich sauce. For those who enjoy a stimulating spiciness, this is a must-try.
The second new product we are introducing is IPPEI CHAN YAKISOBA (fresh noodle type)!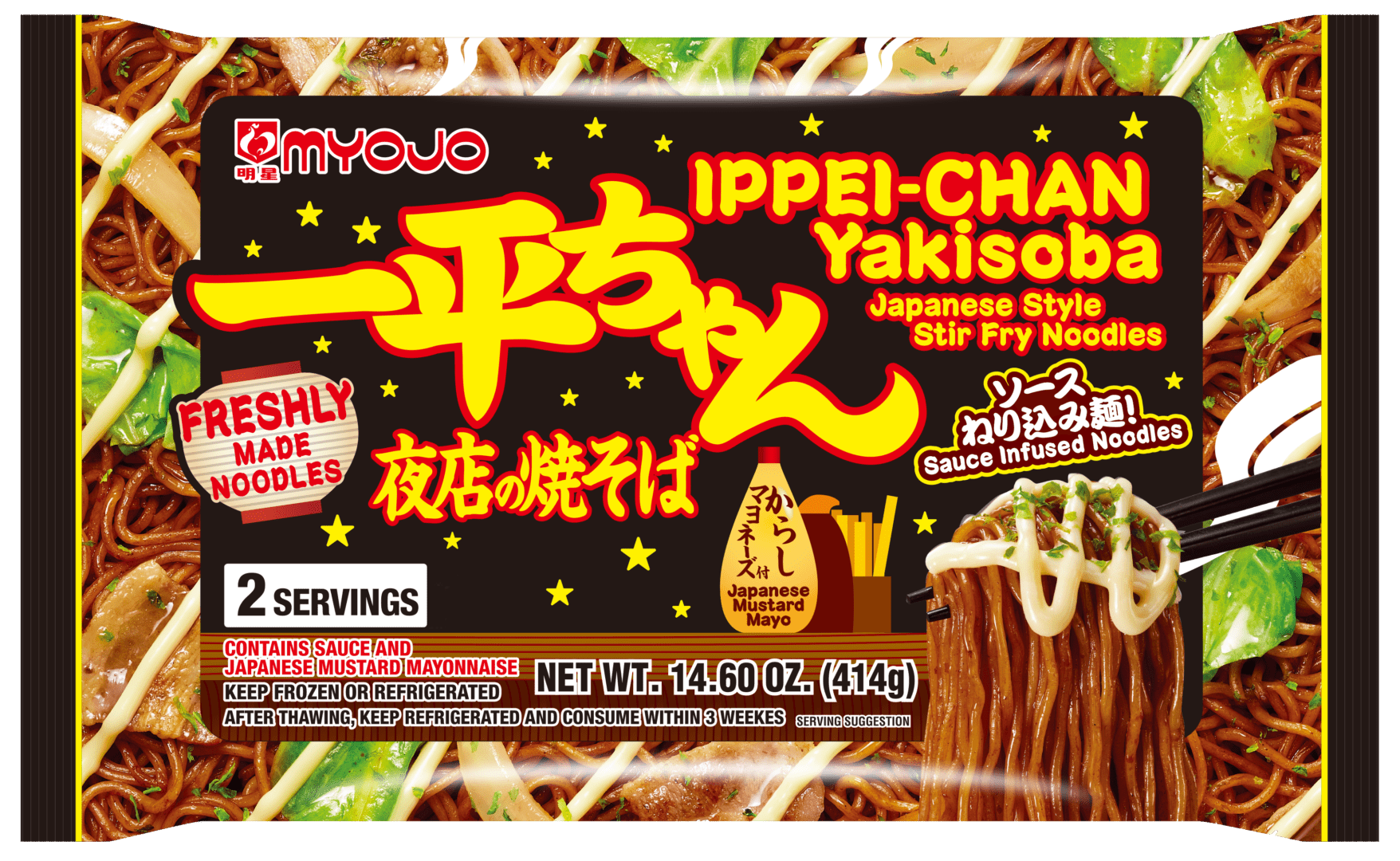 Many of you may already know the name Ippei-chan from the cup yakisoba, but now Ippei-chan is making its North American debut in fresh noodle form! The familiar mustard mayonnaise is also included, of course. Ippei-chan's signature method of kneading the sauce into the noodles has also been adopted for the fresh noodle type. Ippei-chan's distinctive flavor, which has become known throughout Japan as "the perfect combination of yakisoba and mayonnaise," is now available in a fresh noodle version as well.
Here is where you can get Myojo Yakisoba. https://www.myojousa.com/where-to-buy/
Comparison Table of Yakisoba Noodles And Chow Mein
| | | |
| --- | --- | --- |
| Comparison (1 serving) | Yakisoba Noodles | Chow Mein |
| Calories | 354.6c Cal | 277 Cal |
| Carbohydrates | 33.9 g | 23.25 g |
| Protein | 27.13 g | 14 g |
| Fat | 14.25 g | 15.6 g |
| Sodium | 1314.62 mg | 544.5 mg |
| Fiber | 7.27 g | 5.4 g |
| Preparation time | 30 minutes | 15-20 minutes |
Recipe
The overall recipe for both the noodles is quite different.
The steps and the order in which you have to prepare the noodles are different and that's what creates the main distinction.
Moreover, the recipe differentiates between the calories, fats, and proteins in each serving as well.
FAQ
What is the difference between yakisoba and noodles?
A variety of meat and vegetables are used in chow mein, but in yakisoba, pork is the meat of choice and cabbage, carrots, onions, bean sprouts, and green peppers are commonly used.
What is the difference between Yaki Udon and lo mein?
Yakisoba noodles are the same noodles used in ramen, a popular Japanese noodle soup. In some areas of Japan (mainly the Fukuoka Prefecture), yakisoba features thick, chewy udon noodles instead of wheat noodles (in a dish called yaki udon).