Air fryer chicken patties are quick and result in juicy patties perfect for your burgers. Whether you use homemade chicken patties or store-bought ones, these are cooked to perfection in an air fryer!
Once you've started using your air fryer more regularly, you'll find there are so many other ways you *could* be using it, if you had a few extra useful accessories. Here are a few favorites that we use almost every day.
Although store-bought chicken patties are convenient, I prefer making them at home. That's because you can adjust the flavors according to your liking. So, it's really up to you whether you use frozen or homemade chicken patties.
When you cook them in an air fryer, the patties don't require oil. They cook evenly and are done in no time at all. Use the chicken patties to make a delicious chicken burger for lunch, or serve it on a bed of lettuce for a low-carb alternative.
If you're using store-bought chicken patties, then that's all you need. You can place as many chicken patties into the air fryer as can fit in a single layer. For me, that's about 4 chicken patties at a time. You'll also need burger buns and accoutrement if you're making chicken burgers.
If you're going to make your own homemade chicken patties, then you'll need a few more ingredients.
Preheat the air fryer to 400 degrees F for 5 minutes. Place frozen chicken patties in the air fryer basket, without touching, and air fry for 5 minutes. Flip and air fry another 5-7 minutes, until cooked through and the outside is golden brown.
How to Cook Air Fryer Chicken Patties
Preheat air fryer to 400 degrees. It's important to preheat so the patties will cook evenly.
Place frozen chicken patties in the air fryer in one single layer.
Cook chicken patties for 7-8 minutes, flipping them halfway through.
Place buns inside the air fryer and cook for 1-2 minutes until crisped up (if desired).
Remove from air fryer, place chicken patties on buns, and enjoy immediately or store in fridge for up to 3 days using reheating directions below.
The chicken does not need to reach 165 degrees since it is already pre-cooked chicken.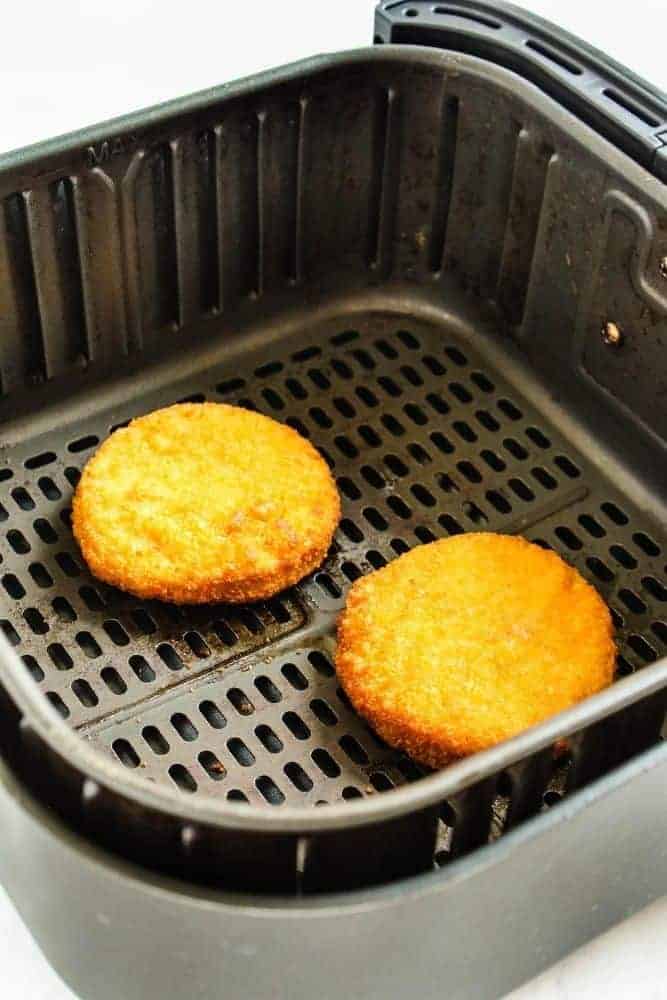 What Are Chicken Patties?
Chicken patties are basically ground up chicken pressed into a patty. That patty is then fully breaded, cooked, then frozen, and sold in stores.
This means the frozen chicken patties in the stores are precooked and just need to be warmed up.
It's kind of like a frozen breaded chicken breast, but with shredded up chicken pieces instead of fully intact.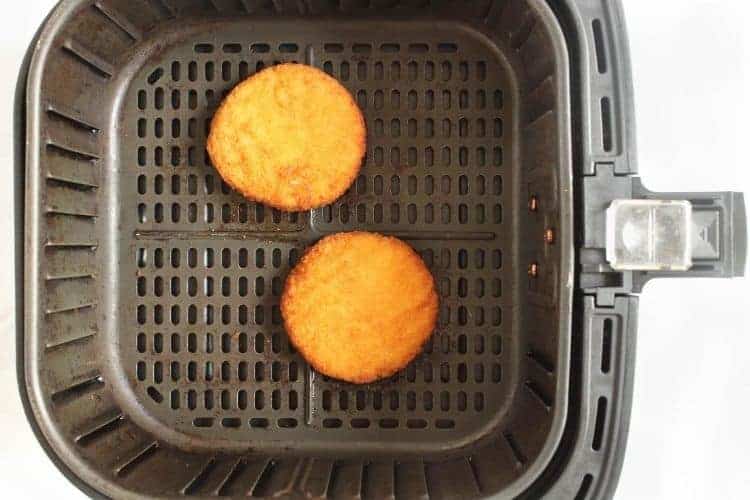 Other Air Fryer Recipes You'll Love:
More Amazing Air Fryer Recipes
Do you love a recipe you tried? Please leave a 5-star rating in the recipe card below and/or a review in the comments section further down the page. Stay in touch with me through social media @ Pinterest, Facebook, Instagram, or Twitter! Dont forget to tag me when you try one of my recipes!
FAQ
How long do you cook a frozen chicken sandwich in the air fryer?
Place the Tyson frozen chicken patties in a single layer in the prepared air fryer basket. Set the air fryer temperature to 360 degrees Fahrenheit/180 degrees Celcius. Air fry chicken patties for 10 minutes. For extra crispy chicken patties, add an additional minute or two.
How do I cook frozen chicken patties?
Preheat your air fryer to 390 degrees F (200 degrees C). Place two chicken patties into the air fryer basket or onto your air fryer trays. Cook for 8 minutes and check the patties. Flip and crisp up for an additional 2-3 minutes if desired.