Frozen crab cakes in air fryer instructions are here! How to get them perfectly tender without defrosting first. Quick air fryer snack or meal
I honestly wasn't so sure how well frozen crab cakes in air fryer would turn out. They need to be tender all the way to the center but a bit crispy on the outside too. We have directions for homemade and store bought frozen SeaPak too. One of many easy air fryer recipes on our site. (affiliate links present)
Ok so first we went all the way with canned meat (fresh would be better but we are in Idaho so ya' know) first and made air fryer crab cakes. <—–You can certainly follow that recipe if you have the time. They are wonderful and you can add all of your favorite seasonings. Make a little spicy too if you love some heat to them.
For a quick seafood air fryer recipe though we have instructions on how to cook these right out of the box. If you haven't tried frozen Maryland crab cakes yet let me tell you, they are amazing. Many times when fish isn't fresh it's just so so but even my husband said they were the best he had ever tasted.
It doesn't matter what brand of machine you have. This dual function machine works just the same, just larger and can pressure cook too. You'll just need to air crisp on this go around. We have an AirWave (seen below) too, and it's always a great Cosori air fryer recipe too.
This brand came with a little package of flavored butter inside. You could certainly just use that which would mean you wouldn't need any other ingredients. I saved that to drizzle over all of them at the end, adding 2 tbsp of cold butter at the beginning.
You want to keep these babies moist is all. I'm sure you get that, and butter is best. Always. Hands down. No exception. There are plenty of seasonings within each cake so no need for any of that either.
Now let's move on to a few questions you might have before you get started. First off, do not defrost them. First off it takes quite a long time and is NOT necessary. If you follow the directions to a tee they'll be perfection.
If you air fry them like we show you here you should set aside about 15 minutes. Seriously, that is all you need. If baking in the oven it could take up to 45 minutes to get them warmed and golden brown! Huge difference in cook time and let me tell you that the quicker method is so much better anyway.
How do you cook crab cakes in the airfryer?
Preheat your air fryer to 400 degrees.
Place frozen crab cakes in the air fryer and cook for 7 to 8 minutes, until warmed thoroughly.
Remove them from the air fryer and enjoy!
Ingredients & Equipment
Frozen Crab Cakes – These days you can find frozen crab cakes in the frozen seafood section of most grocery stores. Popular brands include Phillips, Handy crab cakes, Dockside Classics, SeaPak, and Gorton's. I've purchased crab cakes from Walmart and Aldi, too!
Air Fryer or Ninja Foodi – Any air fryer can be used to make crab cakes. I use my Ninja Foodi multicooker and Ninja Foodi Grill which both have air frying capabilities along with a permanent spot on our countertop.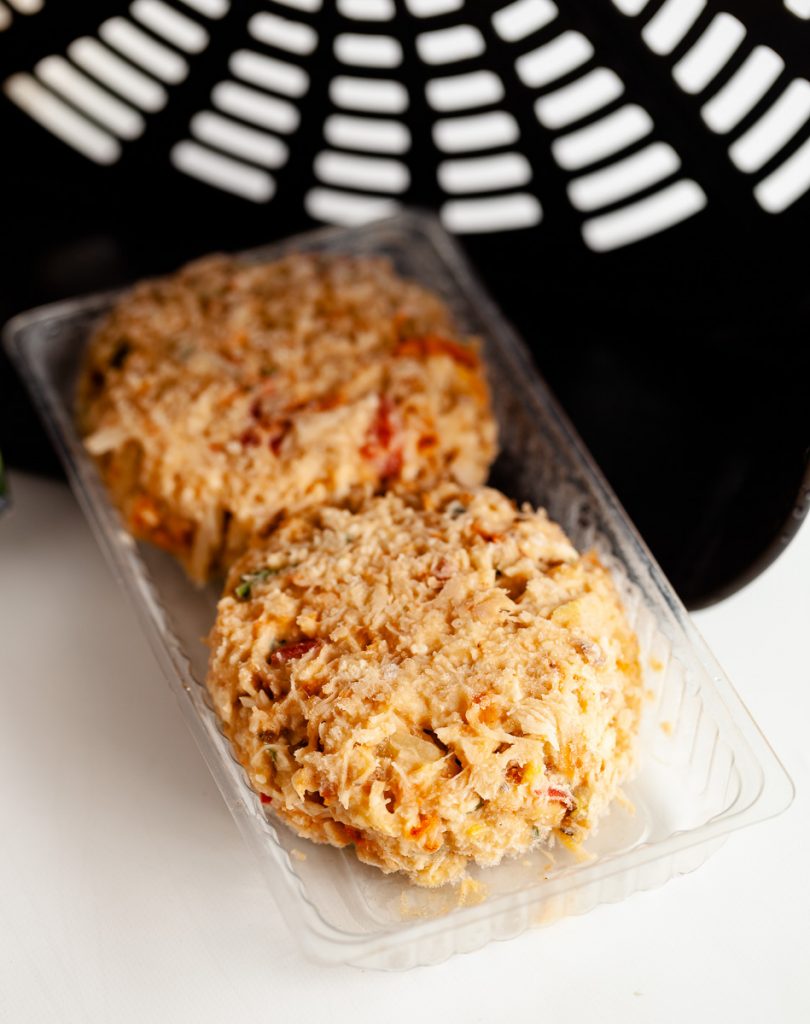 Shouldn't I just use the directions on the packaging?
Since the air fryer is a small convection oven, it uses dry heat to circulate air around the food making it cook fast. This means that the time and temperature may need to be adjusted and will be different from what's on the package instructions.
This is especially true with frozen foods that are as delicate as crab cakes. They are thawing AND cooking during the air frying process, so the time and temperature will vary.
What to Serve with Air Fried Frozen Crab Cakes
Yum! I love crab cakes so much! They are great on their own and also topped with some tartar sauce.
To make a full meal out of these, serve alongside some other sides, such as these below. You can go all out and serve a 3 course meal!
The air fryer is such an easy tool to have in the kitchen! I always have something on hand that I can toss in and have dinner on the table in minutes! Try out some of my other go-to recipes below:
Take the crab cakes out of the package and place in the basket of the air fryer next to each other but not touching.
Set the temperature to 390F and the cook time for 15 minutes.
Halfway through cooking or around the 7 minute mark, take the basket out and use a spatula to flip the crab cakes over to the other side.
Return the basket to air fryer and let them finish cooking.
Serve immediately.
See also:
FAQ
Can you air fry store bought crab cakes?
Place the frozen crab cakes on the baking sheet and then baste or lightly brush some melted butter on top. This trick will keep them moist and buttery. Bake them for 20 to 30 minutes if you have thawed them beforehand, or up to 45 minutes if frozen until they reach a golden brown color.
How do you make Phillips crab cakes in the Airfryer?
Can you air fry store bought crab cakes? You can air fry store bought crab cakes! Just add them to the air fryer basket and cook at 375 degrees F until warmed through and golden. You can cook frozen crab cakes in the air fryer but they will take a few minutes longer.
How long do you cook crab in an air fryer?
Lightly rinse the crab legs, being sure they don't have any leftover sand, dirt, or store packaging on them. Very lightly coat them with olive oil. Season the shells with Old Bay Seasoning, and then place the legs in the air fryer basket. Cook at 370 degrees F for 5-7 minutes, until the shells are hot to the touch.