When Omaha Steaks offers irresistible bulk packages, we understand that it's tempting to stock up on their quality meats. You're probably thinking that you'll make space in your freezer to avail of their great deals. Why not? Omaha Steaks is known for high-quality grass-fed beef that's aged to perfection. But how long will they last in there? You're in luck because we found the answer for you.
Omaha Steaks carefully puts their meats in vacuum-sealed packaging. The food technology that they use ensures that each of their steaks, burgers, and other food products maintain their flavor and texture at their best quality. They will last for 3 months in the freezer if stored properly.
Continue reading because we'll tell you more about how long Omaha Steaks stay good and how they stay fresh all along. We'll also share with you tips on how to tell when your meat has gone bad and how to thaw your Omaha Steaks properly so you can feast on their beefy and savory goodness.
All Omaha Steaks are vacuum sealed at the peak of tenderness. This special packaging keeps the meat fresh and flavorful for up to three months in a properly working freezer. Do not thaw your Omaha Steaks at room temperature.
The Types Of Food Omaha Steaks Offers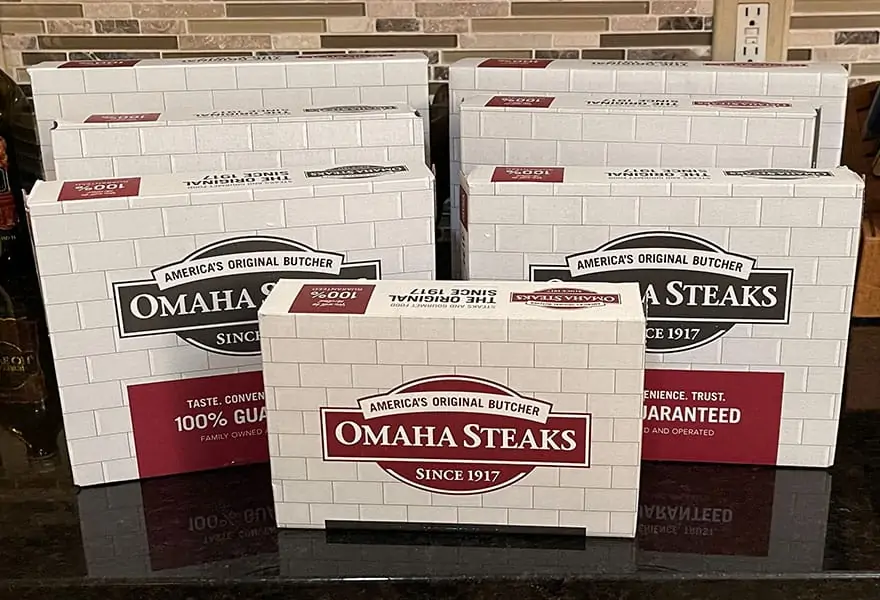 While "steaks" are in their name, Omaha Steaks offers way more than just steak. In fact, they offer nearly every cut of beef, chicken, turkey, and pork imaginable. But that's just a portion of the foods they offer. They also now offer seafood, pastas, sides, desserts, and even wine.
To give you an idea of the immense variety they offer, here are some of their most popular foods they sell from each category:
Steaks
Filet Mignons
Strip Steaks
Top Sirloins
Ribeyes
Chicken
Whole chicken
Chicken breasts
Chicken tenders
Chicken wings
Pork
Pork chops
Pulled pork
Pork tenderloins
Seafood
Salmon
Cod
Sole
Tuna
Halibut
Grouper
Other Meats
Burgers
Hot dogs, Bratwursts & Sausages
Roasts
Turkey
Ham
Lamb
Veal
Ribs
Appetizers
Crab cakes
Mini hot dogs
Mini lobster grilled cheese
Filet mignon sliders
Sides
Roasted mashed potatoes
Brussels sprouts with bacon and shallots
Roasted mixed vegetables
Pepper jack risotto cakes
Desserts
Caramel custard
Chocolate chip cookies
Toffee cake
Pumpkin pie
The examples above are really just the tip of the iceberg. In fact, I found one of the hardest parts of ordering to be deciding what to get.
While they offer a lot of meats that you cook, a good portion of the items they offer are premade foods (like the appetizers, sides, and desserts).
This enormous variety, coupled with their premade options makes Omaha Steaks a great option for special occasions where you may need to feed a lot of people a nice dinner but you don't want to have to spend hours cooking everything. Emily and I have considered using Omaha Steaks for when we host future family holidays.
Omaha Steaks is not like a typical meal kit or meal delivery service in its ordering process. There is no subscription. However, Omaha Steaks knows that their service is used by people who want to order food for themselves and as gifts for friends and family so on every product page they include a dropdown box to select where you want the food to be delivered to. I bring this up because I have inadvertently selected "ship to someone else" when ordering before and want to save people the headache of having to edit everything in the checkout process.
The nice thing about this dropdown option is that it allows you to order for yourself and as a gift for someone else all in one order rather than two different orders. If you have some items in your cart that are to be shipped to you and to be shipped to someone else, you simply fill out both addresses and confirm the products for each delivery at checkout.
The drivers make every effort possible to get your coolers to you on time, but sometimes Mother Nature just doesn't cooperate. In the event that your shipment arrives later than expected, we recommend that you check the contents to ensure that the products are safe for consumption.
We place enough ice in each cooler to make sure the food is good through the end of your scheduled delivery day, which can be as late as 9:00 PM. We typically expect there to be little to no ice left in each cooler when they arrive, but the food should still be frozen. If your gourmet products do not arrive frozen, please use the following information to discern whether your product is safe, or whether you should contact us with concerns.
With the joys of the holiday season come the inevitable inconveniences of winter weather. While Omaha Steaks uses plenty of dry ice and an insulated cooler for each shipment to make it to your doorstep, occasionally the trucks are delayed, have to be rerouted because of road conditions or get held up as a result of other weather-related issues.
Bone-In New York Strips ($599 for 2 14 oz steaks)
Every steak I've had from Omaha Steaks has been a winner (as you can see from our first review back in 2017). This steak was too. It's important to note that the taste of the steak is dependent on the quality of meat and how it's cooked. We make sure to not overcook any steaks to preserve the flavor. So this means staying between the rare to medium-rare levels. Here is a great video on how to perfectly cook a steak that I found very informative.
FAQ
Are Omaha Steaks shipped in dry ice?
We use plenty of dry ice and a reusable, insulated cooler – a packaging combination that will insure your products arrive frozen and in excellent condition. And, we can get your package to you when you want it!
Does Omaha Steaks come frozen?
3. If I have my order shipped, how will my Omaha Steaks product arrive? Your order will arrive frozen and in perfect condition in our "Mini Deep Freeze" packaging. We use a polystyrene insulated cooler with plenty of dry ice – a packaging combination that will withstand any kind of weather.
Can Omaha Steaks be refrozen?
Beef-Only Products: If they are still cool to the touch, they can be refrozen without issue. Poultry/Seafood and all other Omaha Steaks Products: These items cannot be refrozen if completely thawed, but are covered by our 100% satisfaction guarantee and can be refunded or replaced by calling 1-800-228-9872.