These air fryer turkey wings are coated with spices and olive oil, then air fried to perfection. A quick and easy meal that's packed with flavor and made in under 30 minutes!
If you don't feel like cooking a whole turkey for Thanksgiving dinner then I have you covered. Succulent, tender, and juicy turkey wings that will impress your family and friends.
Which Air Fryer do I use?
You can use any conventional air fryer in the market though you might have to do more batches if your air fryer is small.
My favorite brand is Ninja Air Fryer. You can also use a Ninja Foodi, which Ive really come to love as it crisps up so fast! Of course, you can use any air fryer you have in your kitchen.
Preheat your air fryer to 350 F. While thats warming up, wash your fresh turkey wings and leave them out to dry. Next, measure out all of the spices, mix them together in a small bowl, then spray each turkey wing with olive oil using your handy dandy oil spray bottle.
Rub your spice mix liberally over each turkey wing, making sure you get all those folds and layers.
Set each turkey wing in your air fryer in a singular layer and bake them for 20 minutes on one side. Then flip each piece and continue cooking for 15-20 more minutes on the other side.
Use a quick-read meat thermometer to ensure the wings reach an internal temperature of 165 degrees F. Once its done, let it cool down on a paper towel placed inside a large bowl. Enjoy with a side dish or some homemade bbq sauce!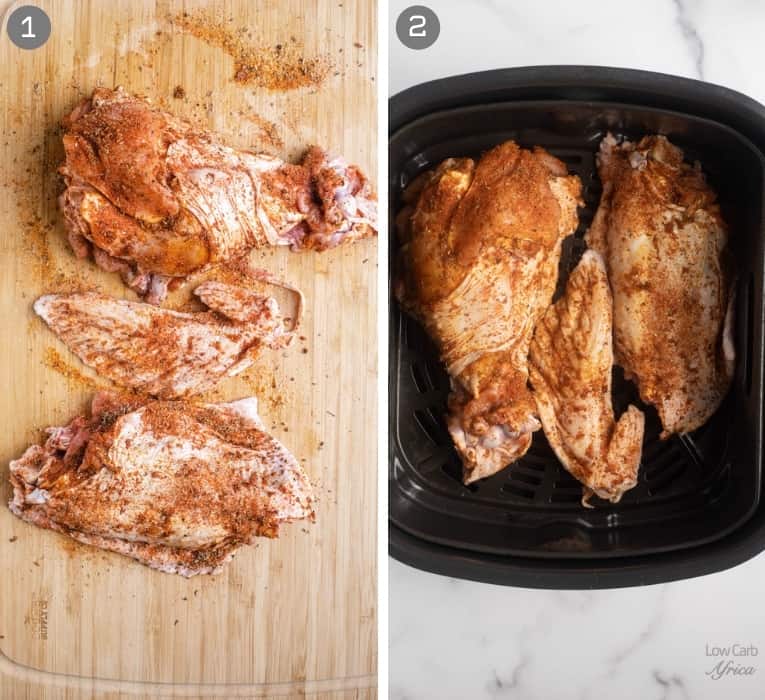 Store any leftover turkey wings in an airtight container in the fridge. These can keep for up to 4 days after you cook them. I like to freeze the turkey wings in a freezer plastic bag as they keep longer. Be sure to let the wings thaw for a few hours or overnight before you reheat them again.
You can reheat the turkey wing pieces in the basket of your air fryer oven at 350F and cook for 5 minutes. Then increase the heat to 400F and cook for 5 more minutes to crisp up the skin.
These turkey wings can also be reheated in the oven. Just wrap them in aluminum foil and place them on a rimmed baking sheet with a wire rack. Set the oven to 275F for about 20 minutes.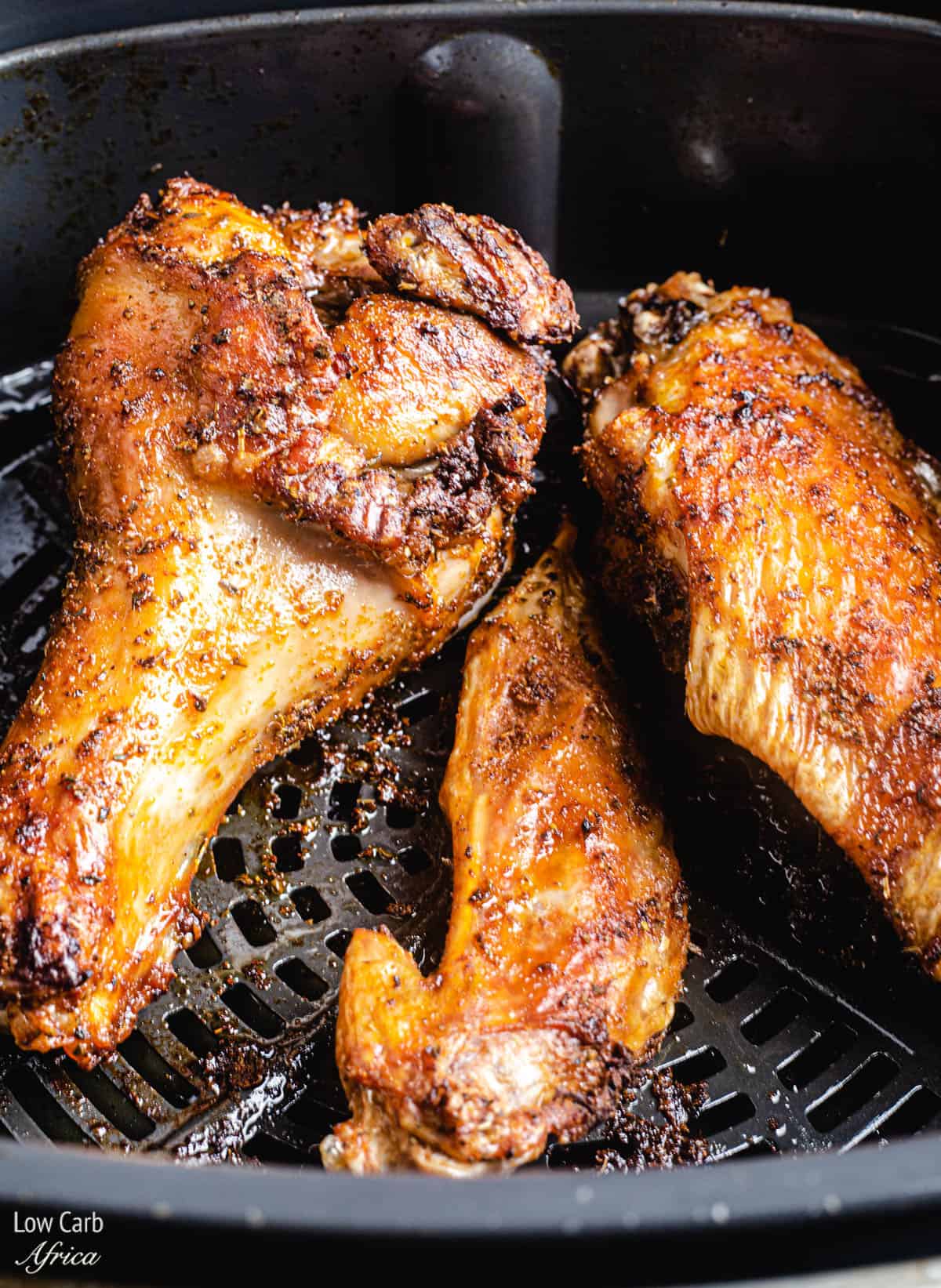 How to Tell When the Turkey is Done
You will need to use a meat thermometer. Insert the meat thermometer into the thickest part of one the turkey wings. According to the USDA, Poultry must be cooked to a minimum internal temperature of 165 degrees.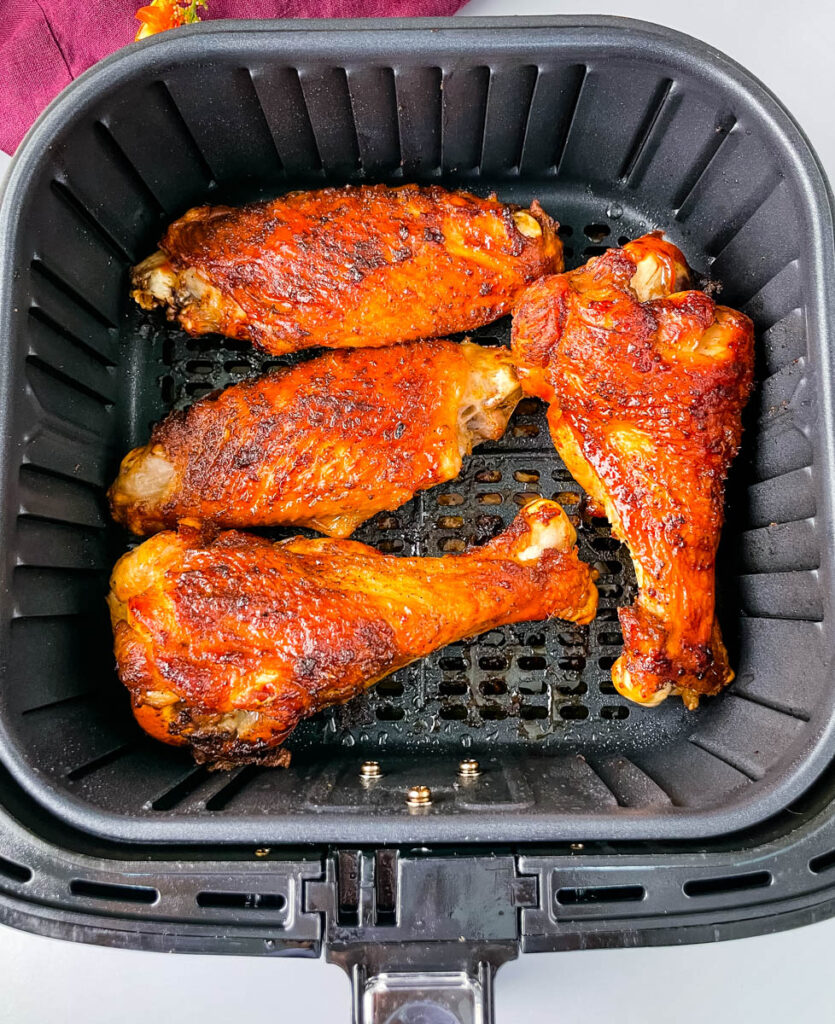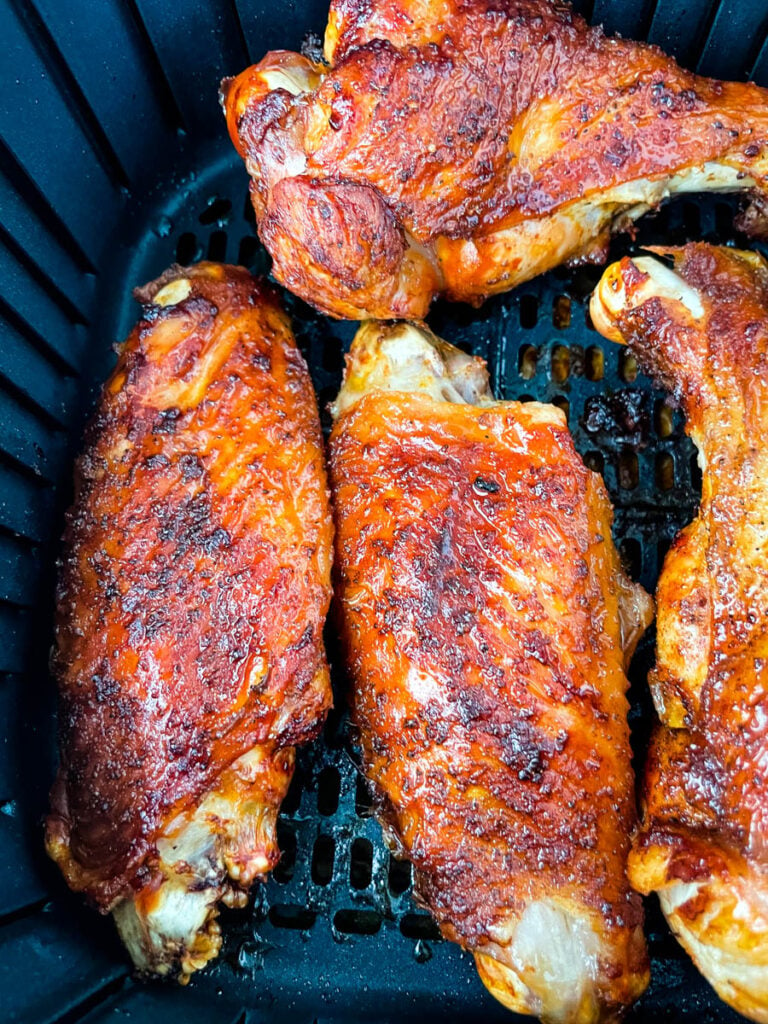 The texture is a lot similar to fried chicken wings. These have crispy skin. If you are looking for wings that fall off the bone, try my Baked Turkey Wings or Smothered Turkey Wings recipes.
Can I Use Frozen Turkey Wings?
I highly recommend using fresh turkey wings but if using frozen, make sure to let them thaw completely before air frying.
Absolutely, preheat your oven to 350 degrees F and bake for 1 hour or until fully cooked through.
FAQ
How do you heat up smoked turkey legs in an air fryer?
In order to reheat smoked turkey legs in an air fryer, preheat the air fryer to 350F. Then cook them for 10 minutes, flipping halfway through to ensure they heat evenly.
How long do you cook wings in a air fryer?
Smoked Turkey wings are an item to try– fully cooked, so all you need to do is heat, and eat! This item can be baked in the oven, prepared on the grill, or microwaved.
Can you put coated wings in Air fryer?
Place the wings in the fryer basket so they are not touching (if necessary to fit, line up the drumettes standing upright along the sides). Set the air fryer to 360 degrees F and cook for 12 minutes, then flip the wings with tongs and cook for 12 minutes more.