Subscribe Get Started with Summer Grilling
Most of us cherish the food we ate as children. When I was a little girl, I loved eating chicken necks, despite them not having much meat. As an adult, I learned that turkey necks have a similar flavor and more meat!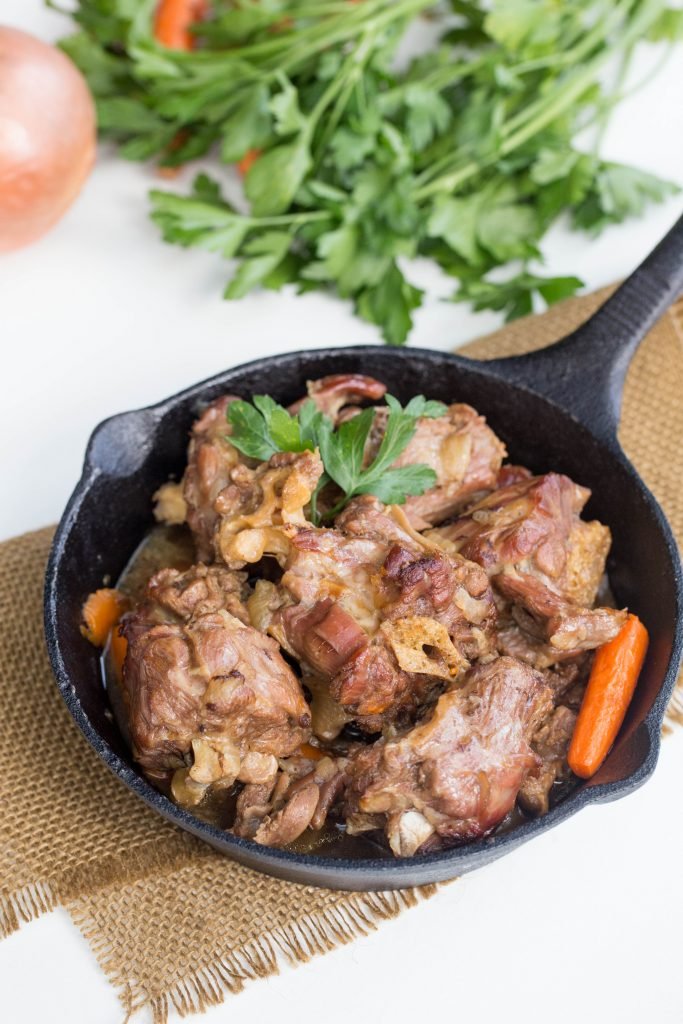 Some of you might think I am crazy for cooking with turkey necks, but I am certain that this recipe will change your mind. Growing up in Ukraine, I was taught that every part of the animal has its place on the dinner table. When prepared properly, turkey necks are a wonderful, fall-off-the-bone comfort food!
Seared and then roasted in the oven, these turkey necks are perfect to indulge in on a cold winter day. The neck is the best part of the bird, so underrated and underutilized in cooking! Prepare some mashed potatoes or white rice to accompany the necks, or eat them fresh out of the oven all on their own.
You may be feeling a bit intimidated to take on cooking turkey necks. Don't fret! It's super easy and very similar to roasting any other type of meat.
First, you will brown the turkey necks on a hot skillet. Then, you will place the browned necks in a cast iron skillet with some fresh carrots and onions and bake them for about one and a half hours. When you pull your turkey necks out of the oven, the meat will fall off the bone and become extremely tender.
The key to keeping turkey necks tender is to add a cup of hot water to your cast iron skillet (or any oven-safe skillet) before you place it in the oven. Creating a slow boil in the oven will ensure that your turkey necks do not become rubbery and burn. The added liquid will also create a yummy gravy!
Other Ways to Cook Turkey Necks
Now that you are in love with turkey necks (right?!), get creative and try cooking them differently! Here are a couple of my favorite ways to prepare turkey necks:
Smoked Turkey Necks: Often times, you can find pre-smoked turkey necks at the butcher. These have an awesome flavor and are the perfect compliment to stews or chilis.
Turkey Necks in a Smoked Cooker: Have a smoker at home? Smoke your own turkey necks! Set your smoker to 180F and let the necks cook for 2-4 hours, or until the meat falls off the bone. Think of these smoked necks as an adventurous departure from traditional smoked chicken wings!
Turkey Neck Soup: My boys love turkey neck soup. Much like chicken noodle soup, it is so comforting and the perfect dish to make when someone is feeling under the weather.
Turkey Necks Gravy: Turkey neck meat is dark, flavorful, and perfect to build a gravy from. Make a batch and smother it over just about anything!
Note: You can find turkey necks in most, large grocery stores, although not every store carries them.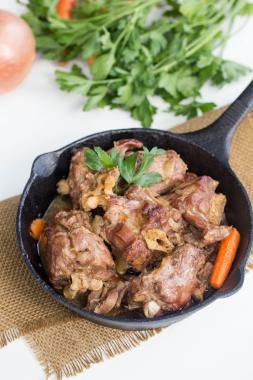 Tips when making air fryer turkey wings
Do not stack your wings in the air fryer. Each turkey wing needs to have enough room to cook evenly to get a nice crispy skin. It is best to cook the wings in batches if you have to.
You can also experiment without different spices like onion powder, garlic salt, black pepper, and rosemary.
To make ahead, rub the turkey wings with the spices and leave them in the fridge overnight. Then pop them in the air fryer the next day when youre ready.
Make sure to clean the air fryer basket thoroughly after each use and keep it dry always.
For an alternative non-spicy seasoning, try this easy chicken seasoning blend.
FAQ
How long does it take to fry turkey necks?
Working with a few necks at a time, remove from marinade and then coat in flour mixture. Shake off extra flour before placing in wok to deep fry. Fry for around 4 minutes each side and golden.
Can u fry turkey necks?
If you've ever had turkey necks before, you'll know that they can sometimes be a little bit tough if you don't cook them correctly. If you deep fry them, then it's usually no problem and they'll be delicious! However, if you stew, or braise them, then the key is a long cooking time with lots of liquid.
How long do I air fry a turkey?
Place breast in air fryer basket, skin side up. Set air-fryer temperature to 400° F. Cook 45-60 minutes, about 7-10 minutes per pound, until a food thermometer inserted registers 165° F. Let stand for 10 minutes before carving.