Captain d's coleslaw is one of my most favorite dishes during the summer season. Nevertheless, it goes fine as a refreshing and cool salad in all seasons, on any occasion. Whenever I need some savory and creamy sweet salads, I prefer making the Captain d's coleslaw recipe. What is more, this wonderful creamy coleslaw recipe is a perfect match for both fish tacos and any kind of fried fish. So, this recipe means a lot for fish lovers especially.
Captain d's coleslaw copycat recipe is very simple to prepare, but the taste is top-notch with nutrient-rich and fresh ingredients. The freshly choppedcarrots, cabbage, lightly sweet sauce, and tangy make it a perfect side dish for almost any dish in our regular food menu. Besides, the celery seed note is something very special in this recipe that outdoes all other coleslaw recipes.
If you are looking for some other delicious vegetable side dishes, you are very welcome to try my KFC Green Beans Recipe. However, the Olive garden meatball recipe also makes a mouth-watering side dish.
How to Make Captain Ds Cole Slaw
Chop cabbage, carrot, and onion with a sharp knife.
Place cabbage mixture in a medium bowl.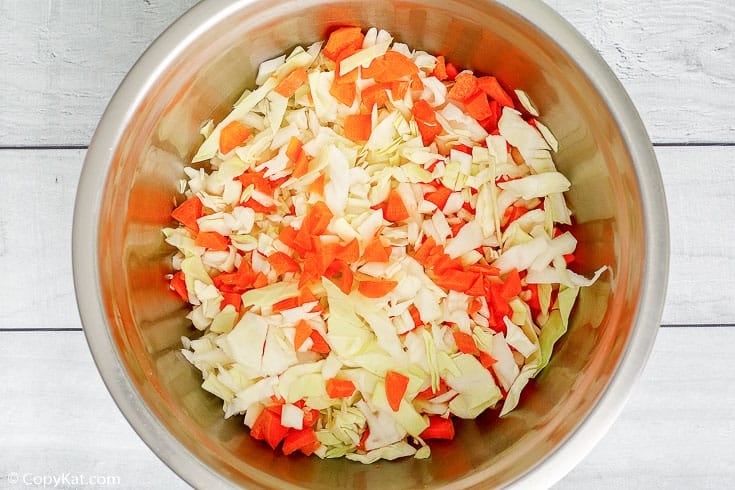 To make the cole slaw dressing, place mayonnaise, vinegar, sugar, celery seed, and salt in a small bowl.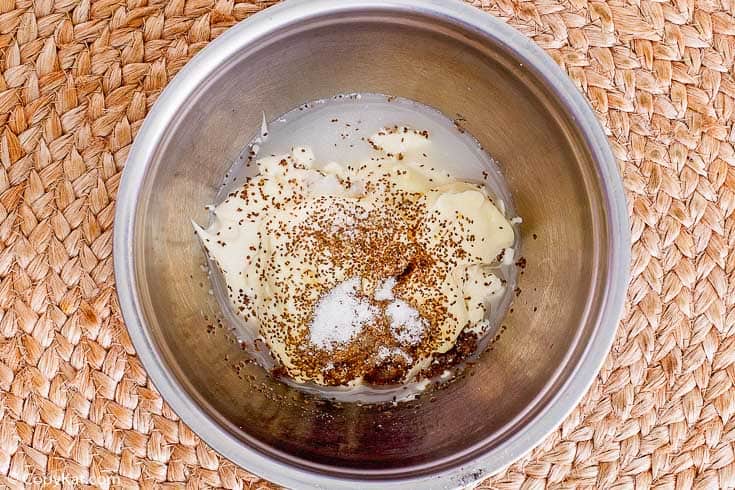 Stir until dressing ingredients are combined.
Add dressing to the bowl with chopped vegetables.
Stir to combine vegetables with the dressing.
Refrigerate cole slaw for at least two hours before serving.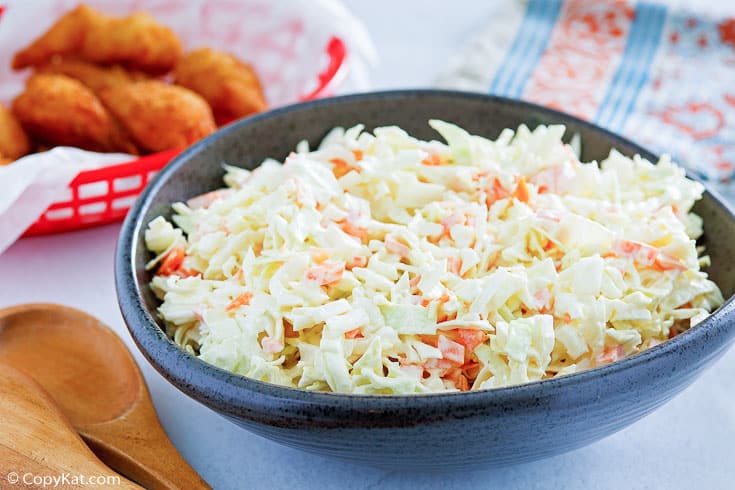 You will want to keep your leftover coleslaw, it goes great with sandwiches and pork. I recommend storing in an airtight container, and placing the container in the fridge for up to five days. I do not recommend freezing this due to the creamy coleslaw dressing. If you want a type of coleslaw you want to freeze, I have you covered. Try my best coleslaw recipe for freezing.
We analyzed all of the items on this chart on an individual basis. We did not include breadsticks, hush puppies, dipping sauces, and other sides as part of any meal. Instead, we analyzed those items separately. Please take into account all components of a meal to determine the final nutrition, allergen and sensitivity content of your complete meal.
Ingredients
You will need a handful of ingredients to prepare Captain d's famous salad recipe. You will get the coleslaw mix in your local grocery store. But some might prefer to create their coleslaw mix. In this case, buy the necessary amount of cabbage and carrot and make the coleslaw mix on your own.
Coleslaw mix (16 ounces or one bag). Or cabbage and carrot.
Finely chopped onion (2 tablespoons)
Distilled and pure white vinegar (2 tablespoons)
Granulated sugar (2 tablespoons)
Fresh mayonnaise (3/4 cup)
Pure celery salt (1 and 1/2 teaspoons)
Celery seed (1/2 teaspoon)
Salt (Optional). If you aren't using the celery salt for any reason, use salt.
FAQ
What is KFC coleslaw made of?
The KFC website lists all ingredients for its cole slaw. They include chopped cabbage; carrots; onions; sugar; water; soybean oil; distilled vinegar; corn syrup; food starch; whole eggs; salt; corn vinegar; spice; apple cider; vinegar; and paprika. It also contains natural and artificial flavors.
What is creamy coleslaw made of?
Combine the shredded cabbage and carrots in a large bowl. Whisk together the mayonnaise, sour cream, onion, sugar, vinegar, mustard, celery salt, salt, and pepper in a medium bowl, and then add to the cabbage mixture. Mix well to combine and taste for seasoning; add more salt, pepper, or sugar if desired.
How do you make coleslaw like Colonel Sanders?
Get This
8 cups finely chopped cabbage (about 1 head)
1/4 cup shredded carrot (1 medium carrot)
2 tablespoons minced onion.
1/2 cup mayonnaise (I used Best Foods / Hellmann's)
1/3 cup granulated sugar.
1/4 cup milk.
1/4 cup buttermilk.
2 1/2 tablespoons lemon juice.